Hiroshi Watanabe-directed feature film was released in July 2015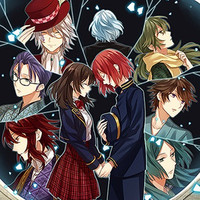 In its fifth anniversary event "Meiji Tokyo Renka -Haikara Roman Gekijyou 4-" held at Maihama Amphi Theater in Chiba Prefecture yesterday, it was officially announced that a TV anime series based on Broccoli's romance simulation game for female, Meiji Tokyo Renka, is now in the works. An all-new game from the franchise, "Dance Party" was also confirmed for a 2017 release.
The story of the Meiji Tokyo Renka franchise follows an ordinary high school girl Mei Ayazuki, who time travels to the Meiji period of Japan (around 1890), and her love stories with various historical characters.
It was first released as a mobile game via Dwango Mobile's Animelo Deargirl label in October 2011, then later ported to PSP and released by Broccoli in September 2013. The first anime feature film
Meiji Tokyo Renka: Yumihari no Serenade produced by Studio Deen was released in Japan in July
2015, the its sequel Hanakagami no Fantasia followed in May 2016. Both were directed by Hiroshi
Watanabe (Hetalia The Beautiful World). It was also adapted into a stage musical titled "Oborozuki
no Chat noir" in June of this year.
Poster visual for the first film
Main voice cast:
Mei Ayazuki: Sumire Morohoshi (Ichigo Hoshimya in Aikatsu!)
Kyouka Izumi: Nobuhiko Okamoto (Karma Akabane in Assassination Classroom)
Ougai Mori: Daisuke Namikawa (Goemon Ishikawa in Lupin The Third)
Shunsou Hishida: KENN (Judai Yuuki in Yu-Gi-Oh! GX)
Otojiro Kawakami: Kousuke Toriumi (Cecil Aijima in Uta no Prince-sama)
Goro Fujita: Jun Fukuyama (Lelouch Lamperouge in Code Geass)
Yakumo Koizumi: Shinnosuke Tachibana (Prince Kanata in Go! Princess PreCure)
Charlie: Toshiyuki Morikawa (Aiba Takaya "D-Boy" in Tekkaman Blade)
Momosuke Iwasaki: Yoshimasa Hosoya (Asahi Azumane in Haikyu!!)
Musical cast visual
OP movie for the mobile game
OP movie for the PSP game
Musical dress rehearsal
via: Oricon Style
© Yorishiro Hozon Iinkai
© animelo/Dear Girl 
© BROCCOLI