The author Araki says, "I have nothing but gratitude for the people."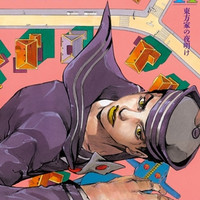 The official website for 56-year-old Japanese manga artist Hirohiko Araki today announced that, as of the release of the 14th volume of the current 8th arc JoJolion next Monday, his long-running Jojo's Bizarre Adventure manga series has printed 100 million copies in Japan. The saga started with the 1st arc Phantom Blood in Shueisha's Weekly Shonen Jump in 1987, and the eight arcs have released a total of 117 tankobon volumes so far.
The current arc JoJolion has been serialized in the publisher's Ultra Jump monthly magazine since 2011. In commemoration of reaching the 100 million mark, the next January 2017 issue of the magazine, which will be released on the same day with the 14th volume, will feature the manga on its cover.
Araki has posted his comment on the record as below:
"The serialization of Jojo began in 1987. It is a very happy thing that the series reaches the 100 million
copies mark at the timing of its 30th anniversary. And I have nothing but gratitude for the people who
have gotten this series and characters in their hands during this 30 years. But this is not a goal. We are
preparing various plans for 2017, the 30th anniversary year. So I am hoping people will enjoy Jojo in the
future as well."
"JoJolion" 14th volume cover
Ultra Jump January 2017 issue cover
Source: Hirohiko Araki official website
(C)LUCKY LAND COMMUNICATIONS/SHUEISHA LION