Makoto Shinkai says the public's adoration of his new film is "not healthy."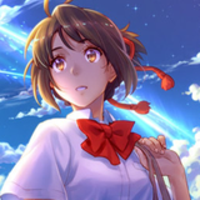 Most of us would give anything to have one of our creations internationally adored and acclaimed. But director Makoto Shinkai has apparently had enough of the popularity of your name., saying he doesn't think anyone else should go see it.
Shinkai maintains that the film could have been better, and the two years the staff had to work on it weren't enough. Budget issues meant that, despite many more things they could have done with the film, Shinkai had to stay the hand of lead animator Masahi Ando (notable for working with Hayao Miyazaki). Shinkai says "Two years was not enough," and says the film feels "incomplete" and "unbalanced." He adds, though, that "the plot was fine."
The film's success, along with earlier projects like 5 Centimeters Per Second and The Place Promised in Our Early Days, have led people to call Shinkai "the next Miyazaki." He rejects the title out of hand, and even says he's hoping your name. doesn't net him an Oscar. He went the extra mile to destroy the Miyazaki comparison by hiring the J-rock group Radwimps to score the film.
In actuality, this self-effacing talk may mean Shinkai just wants to stop promoting the new film and get back home to work on the next thing. Though with this most recent film netting more and more at the box office (with one in seven Japanese people now having seen it), it looks like he may be caught up in this particular round of promotions for a bit longer.
Source: Daily Mail
-----
Kara Dennison is responsible for multiple webcomics, runs social media and interviews for (Re)Generation Who, and is half the creative team behind the OEL light novel series Owl's Flower. She blogs at karadennison.com and tweets @RubyCosmos.