First advance sale of the tickets will be conducted between February 28 and March 6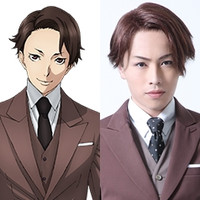 The official website and Twitter for the upcoming stage play adaptation of Koji Yanagi's spy mystery novel series Joker Game today revealed its four main cast visuals in costume: Shogo Suzuki (28) as Miyoshi, Yuuya Kido (24) as Jitsui, Koji Saikawa (21) as Kaminaga, and Shoichiro Oomi (?) as Lieutenant Sakuma.
The stge play is written/directed by Daisuke Nishida, best known for his directorial works for the stage play adaptations based on CAPCOM's popular game franchise Sengoku Basara from 2009 to 2010. It is scheduled to be performed at Zepp Blue Theater Roppongi in Tokyo eight times from May 4 to 7. Lawson Ticket will conduct the first advance sale of the tickets between February 28 and March 6, then general sale will begin on April 8.
The novel's TV anime adaptation animated by Production I.G was aired for 12 episodes from April to
June 2016 and has been available to Crunchyroll members worldwide outside of Asia.
Miyoshi: Shogo Suzuki (Tani Chiaki/Shinken Green in Samurai Sentai Shinkenger)
Jitsui: Yuuya Kido (Kintaro Touyama in The Prince of Tennis musical)
Kaminaga: Koji Saikawa (Soichiro Susuki in Cheer Boys! stage play)
Lieutenant Sakuma: Shoichiro Oomi (Nova in Arcana Famiglia stage plays)
【舞台『ジョーカー・ゲーム』第一弾ビジュアル発表!】
三好、実井、神永、佐久間中尉のキャラクタービジュアル&キャストを発表します!残りの配役についてはこうご期待!#ジョーカー・ゲーム #舞台ジョーカー・ゲーム pic.twitter.com/aCCoCMLrnS

— 舞台『ジョーカー・ゲーム』 (@jg_stage) February 21, 2017
Flyer visual
Source: Marvelous press release
©Koji Yanagi, KADOKAWA/JOKER GAME ANIMATION PROJECT
©JOKER GAME THE STAGE PROJECT