DLE's original anime has been viewed over 4 million times worldwide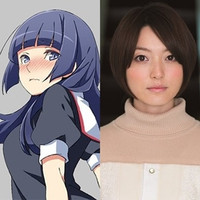 Following the first girl Haru (CV: M.A.O) and second girl Rin (Enako), Tokyo-based animation and entertainment company DLE's official YouTube channel has posted a 30-second trailer for the upcoming third clip of its Henkei Shojo (Transformation Girls) series, introducing a new girl named Itsuki voiced by popular voice actress Kana Hanazawa (Kuroneko/Ryru Gojo in Oreimo, Kosaki Onodera in Nisekoi).
As the title suggests, the short anime series features girls who can transform into machines, the first girl Haru as a fighter jet and the second girl Rin as a sport car. What king of machine the third girl Itsuki will be?
According to the trailer, the Henkei Shojo clips have been watched over 4 million times worldwide since March. The third clip was originally scheduled to be posted on June 26, but it has been postponed to early
July. Then two more clips will be added subsequently in the coming months.
3rd clip trailer
変形少女「衣月(いつき)」の声優当てクイズ正解発表タイム!
答えは、超人気声優の『花澤香菜さん』でした!!
変形少女#3衣月の予告動画を公開しました。今すぐチェック⇒https://t.co/FrJoAojWf0 #変形少女 pic.twitter.com/EVZSjsYsBm

— 変形少女@公式アカウント (@henkeigirls) June 21, 2017
1st clip "Haru"
変形少女羽瑠の声優当てクイズ 当たった方の中から抽選で
1名様にM・A・Oさんサイン入り変形少女ポスターを差し上げます!
当選者の方には明日個別でDMでご連絡をしますので、楽しみにお待ち下さい!
それでは、今週も変形少女と最っ高ぉぉ~!な1週間を過ごしましょう! #変形少女 pic.twitter.com/xIsXhcFn4T

— 変形少女@公式アカウント (@henkeigirls) May 29, 2017
2nd clip "Rin"
【変形少女#2公開まであと4日!】
今週も新しい1週間がスタートしましたね。
今週は…いよいよ変形少女#2りん篇が公開されます!
金曜日を楽しみに、最っ高ぉぉ~!な1週間を過ごしてください! #変形少女 pic.twitter.com/5gryTrTRvn

— 変形少女@公式アカウント (@henkeigirls) June 5, 2017
Theme song "Me-Chu-Pa-La" one chorus preview
Main visual
Source: "Henkei Shojo" official website
© 2017 Henkei Shojo Production Committee