Time loop-themed film will be released in over 110 countries/regions in the world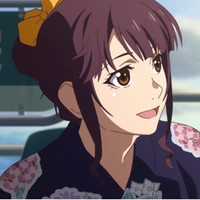 A press conference to report the completion of the anime film adaptation of Japanese director Shunji Iwai's 1993 TV drama Uchiage Hanabi, Uekara Miruka Shitakara Miruka?/Fireworks, Should We See It from the Side or the Bottom? was held at Shinjuku Park Tower in Tokyo today, July 11. It was announced that, thanks to Iwai's international recognition and fame, the film is already scheduled to be released in over 110 countries/regions in the world.
The Shaft-animated film edition is directed by Nobuyuki Takeuchi, who has worked as visual and production designer for the Monogatari series, on a screenplay by Hiroshi Oune (Moteki, Bakuman. live-action film director), alongside Akiyuki Shinbo (Puella Magi Madoka Magica) as general director. The time loop-themed anime film repeating one day in the summer vacation is set to be released in Japan on August 18.
At the same time, the official website for the film posted a 90-second third trailer introducing more dialogs
of the three main characters, summer scenery, and its theme song "Uchiage Hanabi" and insert song
"Forever Friends" both performed by 20-yesr-old rapper DAOKO.
3rd trailer
(from left) Mamoru Miyano, Suzu Hirose, Masaki Suda, Takako Matsu
[映画ニュース] 菅田将暉、「打ち上げ花火」広瀬すずの声は「エロいな」 https://t.co/u2gNUrHt81 pic.twitter.com/LxnBIAIV4S

— 映画.com (@eigacom) July 11, 2017
New poster visual
新しいポスタービジュアルができました#打ち上げ花火 #広瀬すず #菅田将暉 #宮野真守 #岩井俊二 #大根仁 #新房昭之 pic.twitter.com/GSm7Dcw9Eb

— 打ち上げ花火、下から見るか?横から見るか (@uchiage_movie) June 28, 2017
Source: "Uchiage Hanabi, Uekara Miruka Shitakara Miruka?" anime film official website, Eiga.com
©2017 "Uchiage Hanabi, Uekara Miruka Shitakara Miruka?" Production Committee