The heart-warming drama won the Excellence Prize in the 19th Japan Media Arts Festival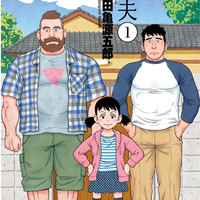 Japan's national public broadcasting station NHK announced today that a live-action TV drama adaptation of Gengoroh Tagame's LGBT-themed family drama manga Otouto no Otto/My Brother's Husband for three episodes on its main satellite channel NHK BS Premium from March 4 to 18, 2018.
The protagonist Yaichi is played by 37-year-old actor Ryota Sato (Maes Hughes in Fullmetal Alchemist), and Mike, a Canadian who was the husband of Yaichi's twin brother Ryoji, is portrayed by 33-year-old ex-sumo wrestler from Estonia, Baruto.
Ryota Sato and Baruto
☆佐藤隆太×把瑠都 プレミアムドラマ『弟の夫』制作開始!☆
亡くなった弟の結婚相手が、はるばる会いにやって来た。その相手とは、外国人で…男だった。
【出演】
佐藤隆太 把瑠都 中村ゆり 根本真陽 ほかhttps://t.co/iCUo74M9Pm#NHK

— NHKドラマ (@nhk_dramas) 2017年12月5日
The manga was serialized in Futabasha's Monthly Action from 2014 to 2017, and compiled in four tankobon
volumes. It won the Excellence Prize in the manga category of the 19th Japan Media Arts Festival in 2015.
Its English edition is published by Pantheon Books in the US. The publisher describes the story as below:
"Yaichi is a work-at-home suburban dad in contemporary Tokyo; formerly married to Natsuki, father to their
young daughter, Kana. Their lives suddenly change with the arrival at their doorstep of a hulking, affable
Canadian named Mike Flanagan, who declares himself the widower of Yaichi's estranged gay twin, Ryoji.
Mike is on a quest to explore Ryoji's past, and the family reluctantly but dutifully takes him in. What follows
is an unprecedented and heartbreaking look at the state of a largely still-closeted Japanese gay culture: how
it's been affected by the West, and how the next generation can change the preconceptions about it and
prejudices against it."
Tankobon 1st and 2nd volume covers
3rd and 4th
Source: NHK Drama Topics
© Gengoroh Tagame/Futabasha