TOP BISHOUNEN:

1) Mukuro Rokudo
2) Akise Aru
3) Itachi Uchiha
4) Kakashi Hatake
5)Xerxes Break
6) Yuu Yanase
7)Byakuya Kuchiki
8) Sasuke Uchiha
9) Kida Masaomi
10) Hibari Kyoya


Other Favorites

Lacie Baskerville
Fran
Chrome Dokuro
Sakata Gintoki
Shinpachi Shimura
Sanji from One Piece. I love this guy!
Kyoko Mogami
from
Skip Beat!
Give us season 2 !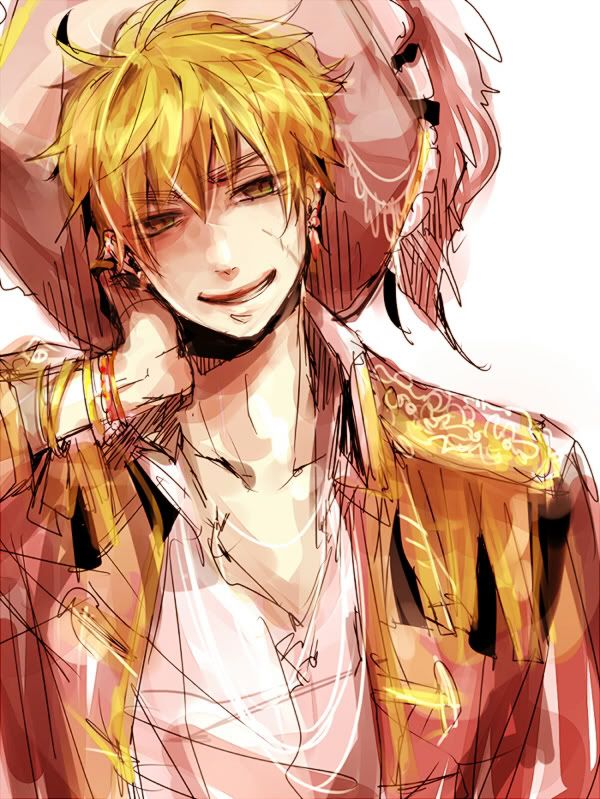 Arthur Kirkland/England from Hetalia
He's British. He's a tsundere. He's a pirate gentleman. His voice is awesome. His brows are awesome. I love everything about him.
Antonio Fernandez Carriedo/Spain from Hetalia
He's Spanish. He was/is also a pirate. He's so cheerful and cute and adorably dumb. Also, he has DAT ASS.
I have a list of my favorite characters.Spike,Yamamoto Takeshi,Ichigo Kurosaki,Roy Mustang,Yusuke Urameshi,Goku,and Judai Yuki.I cant pick-__-
pejodd
Hanamichi Sakuragi from Slam Dunk ! Priceless !!
Eikichi Onizuka from Great Teacher Onizuka ! Just under priceless :)
TheBrigadier
Favorite character by Far Trieze Kushrenada from Gundam Wing. Hands down the most awesome antagonist of all time. He is an intellectual and he takes over the world twice.
And at a close 2nd America from Hetalia. USA
allierose
i love kanda from d.gray-man

i kinda like the tsundere males lol
gatotsuz
Woowww that's hard to decide, there are a lot of characters that I love. MMMM... I would chose "Clare" from Claymore, She is very strong despite not being a 1/2 Yoma.
i love toya from cardcaptor sakura....i also love sasuke from naruto....tasuke and hotohori from fushigi yuugi...athrun zala from gundam seed...and many more....
Douse any one know when the seasond three for hayate the combat cutler comes out?