my lil brother, just pulled him out of the oven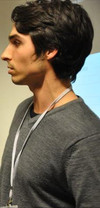 Aidell's chicken and apples sausage with a buttery croissant, a banana, and a San Pellegrino limonata drink.

That hit the spot.
A churro and a blue raspberry icee. I'm so healthy.
mcdonalds, im such an american
Calzone and spicy chicken
Rajyrr
Vanilla Protein Powder mixed into Yogurt.

It was delicious.
scottRabara
Ramen with an egg.. and Scrambled eggs with rice. Love my huevos.
allierose
lasagna....last night......pizza is on its way tonight right now.....im....soo....hungry......