I could never go back to life without the Internet!

It's also why I can't watch Seinfeld anymore. The plots in that and other '90s sitcoms no longer make sense thanks to the Internet and cell phones.
Oddly enough i'd probably masturbate a lot more if the internet were to die then I do now with it.
I'd probably read a lot more. And be a lot more productive. My job would suck balls though.
My life without the internet is just sleep. I sleep , and then I dream something outrageous. Productivity and me do not mix.
Given how central the Internet is to my work, I can't say that I'd be more productive. However, I remember a time before the Internet (back in the dark days of videotapes and forearm-sized cell phones), and I'm sure that I could adapt.
My life travels on. I run, I jog, I walk. I go out and visit friends. I travel.

Internet is a supplement to me, not my life.
heyplaygirlxo
I love the internet and i would be sad without it. But i don't think my everyday life is that boring, i work and go to school plus I gogo dance on the weekends at raves and different events. So honestly my life is pretty packed with excitement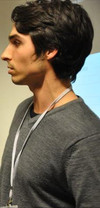 Well, for one thing, I'd lose touch with a lot of people I probably would have never kept in contact with after high school, after college, after my last job, random people I've met, etc. That could actually be a good thing.
hpulley
Without Internet access I might be forced to interact with people in the same room with me, assuming I remember how to do that...
I'd get more things done, get enough sleep, and be stressed out as hell.
Woodayy55
i might have to cry hah. I wouldn't be able to watch any of my anime ;(. Any ways on topic now. I would def. survive. I would be getting 100's in school, i'd be fit (well more fit, hah not like servely chubby or obese just, i'd be way more defined hah), with friends all the times and stuff like that.
Meh. Idk. I'd probably have more friends if it wasn't for the internet. LOL. But oh well, I love my internet life just as much as I love my real life.
Zatheko
What is this "Life" you speak of??