A very close friend of mine gave me the nick name "Hachi." Its from the anime Nana, and a movie called Hachiko. Its about a dog.
I resemble both Hachi's.
The bubble part... I honestly don't know. I just thought bubble was a cute thing to add, I guess. xD
Foxkins
My old aim name had Doglefox (Yes from neopets) in it. So my best online friend just called me Fox for short then years later my other friend added kins at the end. I thought it was cute soo Ta-daa! Foxkins
solatia
When I was younger I played pokemon diamond and i was in the town Solaceon and one of my eggs hatched and I didnt know what to name it.... But somehow I came up with Solatia from the town name... And now I just kinda love that name so I use it a lot!
My name with a bunch of h's and an a at the end?
i don't even
I just got the name from Inuyasha.

After 4 years or so, I wish I could change my username -_-
Miyavinee
'
Miyavinee
' is the name of the character i drew and made.
I choose ShiverGirl because I liked the cold. I still find the name odd but I like it...
Rei4Shinji
My username came from Neon Genesis Evangelion (obviously) and it means that Rei was destined to be with Shinji even though they were on opposite paths. Even though Rei could not show emotion she had a bond with Shinji unlike anyone else (besides Commander Ikari but that failed as we saw)
crazyfirefly
No idea...It's been five years since I created this username but somehow it's stuck through the ages.
I got mine from a friend :3 it gave me an idea of "Can i make this stupider?" XD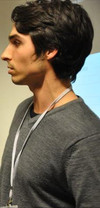 Winterfell is the stronghold of House Stark from the series "A Song of Ice and Fire." They're my favorite family from the story.

The "s" is the first initial of my last name.
AliBenZappa
Back in the 70s when I first went to university there was a poster of Frank Zappa sitting on a toilet, Phi Zappa Crappa. He had long fuzzy hair, and at the time I had long fuzzy hair, so my nick name became Zappa. And then there was this little Jewish girl, that I had a really big crush on, and my nick name became Ben Zappa. Decades later I added the Ali. Now my online ID is AliBenZappa(copyrighted).

i always wanted a wolf as a pet and when i was about 7 i had a dream about a wolf made of stone and i didn't know how to spell wolf right back then so i spelled it woof and thats how my name came to be
If you look closely enough then you'll be able to see what it means.
Amunat used to be one of my favorite characters in World of Warcraft. I randomly came up with it myself, I just knew I wanted a name that sounded kind of ancient Egyptian.