ahh nice subject challenging... and a little bit yucky..
bloody... one of the sources of my headache
(its a better source of headache than algebra)
thats all...
Paramis
I did well in both Bio and Chem, but I preferred Biology more. The only dissection we did was on a sheep heart and something my teacher accidently ran over (and killed). << The sheep heart was the worst...the dissection wasn't so bad, but it wasn't cleaned up properly afterwards. The next day the classroom smelled so bad, you could hear everyone gagging and tryingnot to hurl.
Bio isnt that great
and chem seems fun (:
In Bio we dissected chicken wings and smoked a moose heart which we later got to eat.
Of the two chem was my fav: It was really fun and our teacher accidently made an explotion so big there's still (years afterwards) a huge black hole in the ceiling above the his desk
The entire classroom shook and the firealarm went off.
But Electricity was confusing....
well it made me drool and out teacher is very strict.... somehow.... its nice
i hate chemistry..i always end up failing my quizzes there because i cannot remember all the formulas.
Fucking loved both classes xD
I've never liked chem!
but biology, i LOVE it! and i have the coolest teacher : D
Love biology, really interesting.

Hate chemistry, taking it right now and everyone who has the same professor as me is failing.
I was always good in science...anatomy, biology etc. the only problem I had was in physiology. Never really had a problem in chemistry either, I managed to pass it with a B-. My chemistry class sat in the same groups for the whole year and my group always cheated on tests together lol....

I remember we had a horrible incident when I was a freshmen in one of the high school Chemistry Classes. A senior girl was mixing together chemicals and the teacher forgot to open the fume hood. The chemicals exploded burning almost 50 percent of her body in chemical burns....
Never did any dissecting in Biology, kind of disappoints me.

Now, chemistry.... I really hated it, it seemed interesting but it was a difficult topic for me to comprehend. The labs were boring too, minor explosions and barely any interesting crap.
They were alright, but I hate anatomy. My teacher is giving us a practical about the 206 bones in the body. They are fill in the blank and she never went over the material. I have until monday to remember everything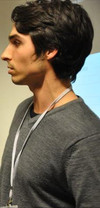 I love Chemistry and Biology, those classes taught me so much about the natural world and what laws govern it, how life and nature operates, etc.

Labs were pretty long, exhausting, and brutal but incredibly satisfying once you finished them successfully and understood the concepts being experimented upon.

If I wasn't a Business major I would have probably majored in a scientific discipline like Chemistry, Physics, Biology, Geology, Astronomy, etc. Honestly, I would have but for most scientific majors you have to undertake more schooling in order to be qualified for the "good jobs." This means getting a Master's or Doctorate. I couldn't afford additional schooling at the time, already in debt, and wanted to find a major that qualified me for a good job quickly so I could start earning money.