1. Lucy/Nyuu- Elfen Lied
2. Tessa- FMP
3. Asuka- NGE
4. Elis- Canvas 2
5. Naru- Love Hina
logain
wrote:
hmmmm lets see
Tsunade
Orihme
Masumoto
c a pattern
I have to go with log on this one :)
1. Haruka - Love Hina
2. Tatsuki Arisawa - Bleach
3. Yoshino Sōma - Bleach
4. Noyama Ringo - Air Gear
5. Shimuka - Air Gear
Hell, my opinion has changed a lot and don't feel like thinking of em.
My top 5 lol I have 100s

Well.... Tifa- Final fantasy(Last order)......Many others but PG-13 spoiles it.
this is gonna sound kinda cliche's but if Winry were 19, i'd bang her so fast
I actully find belldandy ..... ugly...but nice....

Ill have to say... nyu from elfen lied.... not her other self , YAY FOR RETARD GIRL!

And all the girls from mahou sensai negima.... cept the fat chick, no offense

OH, yes I forgot abouuuuutttt. that other girl from beating angel dokoro chan...

The lesbien orihime or somethin,

fayes ugly, nuff said,

and SOME of the girls from luemene or something
Meh, can't blame you. But I think her being real would matter more.
faye and belldandy ugly? Some odd taste right there folks.
1. Multi (To Heart)
(The BEST!!! Whoo!)
2. Lacus Clyne (Gundam SEED)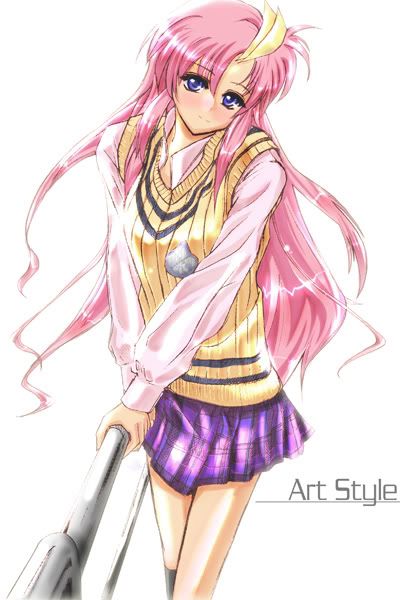 (nose bleed)
3. Sakura (Tsubasa Reservoir Chronicles)
(So.... compassionate.... attracts me.... by her personality....)
4. Aoi (Ai Yori Aoishi)
(i forget)
5. Shinobu (Love Hina)
(So... my type)
No one mentioned Sango from Inuyasha?
She's not too attractive to me because....
im not into older women >.>
Oh yes, the topic is top 5 girls. Ok here we go...

1 Faye
2 Sango
3 Yoruichi
4 Izumi Sawatari (He is my master)
5 Mikuru (Melancholy)