She is awesome!!! She's like the queen of her little auras! She's the kinda of heroine that I love the best! She's strong and smart, but yet again, she's just like any ordinary girl... well... she's not really ordinary considering how persistent she is but she is true awesome!!!!
I like Kei and Hikari from Special A
also Natsume, Ruka pyon, Mikan and Hotaru from Gakuen Alice
and a lot more!♥
a lot
Dee and Ryo from Fake
Hiroki and Nowaki from Junjou Romantica
Asami and Akihito from Viewfinder
As of right now, it's Golgo 13. He makes Bond and Bourne look weak.
kunimitsu tezuka form POT
lokyilo
wrote:
uh
....kakashi....cause im totally obsessed lol
agree. kakashi is so cool.
zero and yuuki from vampire knight,
favorite..?! well.. there are lots.. but i choose.. hmmm.. Tadashi Karino XD
anesh
wrote:
ICHI SHINPO from PARFAIT TIC,,,i like him!!!!!!!!!!!!!!!!!!!!!!!!!!!!!!!♥♥♥
waaiii.. i LIKE him too <3
muki02
wrote: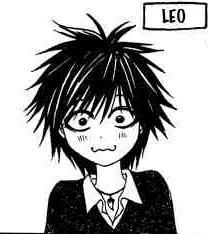 Leo from Beast Master
´love his hair.. ^_____^
Lolz I got afew
Tama from Ouran
Haruhi from Ouran
Mori from Ouran
But no one compares 2
KYOU-KUN
Hez the best i <3 him
I got stuff of him and i love him =3