CarboKill
wrote
:
demo_Animation
wrote
:
Let people be what they wanna be.
They don't judge you, so don't judge them >.>


So people... DON'T have the right to be what they want to be?
:o
Hey, Spiderman said it, not me
:o
Hey, Spiderman said it, not me


I no longer enjoy the company of toby mcguire.
..
By stating their Asian-ness its like they think people will pay them more attention or something.





..
This ain't no Toby Mcguire early 00's shit. This is the raw-ass 60's spidey, player. Word up.
Yohannbear
I love rice and will eat it every meal.
That "All Asians Eat Rice" type of thing always pisses me off cuz some asians aren't allowed to eat rice because they're seriously allergic to it (like they start scratching).. my mom has that so..
I agree with you completely.

I don't get why people are shouting out that they are asians and doing that asian pride shit.

I mean, you are asian. So be proud of your culture but you don't have to shout it out.

I'm asian and personally, I am proud to be an asian. I can't imagine myself not being asian. Anyhow, people yelling out asian pride or shit like that annoys me.

Yes, be proud of your culture BUT there's no need to shout it out like a stupid loud 5 year old. It's pointless. People do know that you are asian through your features. Sigh.
It's really a stereotype and they are embracing it by mentioning what makes it a stereotype. Not all Asian people like rice, I'm sure.
Black Pride? Ok, no problem.

Asian Pride? Ok, no problem.

White Pride? YOU RACIST BASTARD!

Fuck all the races.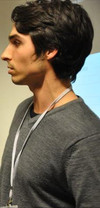 I don't think I've ever met an asian guy or girl who expressed their racial pride by saying "got rice?"