it`s harmful because Cyber bullies everywhere
immitis
I think this example is a apt metaphor for the Net. The sun's rays can cause cancer, eye damage, and more thus it is dangerous, however if we removed the sun all life would die as it is necessary. While that example is a bit of a overstatement the point remains the same if you use the correct precautions you can negate the dangers most of the time while reaping the benefits.
the internet is only harmful if you're stupid. which most people are, (no offense) so that's why people like parents and teachers don't like (at least younger kids) people using the internet.
as long as you're smart enough to not do stupid things on the internet (give personal info, have the ability to contract viruses, etc.) you should be fine.
It has a lot of good and bad points. I kind of believe that who we are is largely dependent on the events and people that we have in our lives, and in a way the Internet widens the scope of our experiences drastically. People of all walks of life are exposed to each other in a new ways. Perhaps that is why there is constant fighting and conflict in comments, message boards etc. Anonymity also plays a huge roll in that. There is also the escapism and detachment from the real world that the Internet causes to take into account, among other things. It will be interesting to see how generations that grow up in this time will contrast with the generations that didn't.
i am not sure or do not likely have an idea if someone already sighted this comment that i am gonna post as a thread
The

internet

is like a

gun

. Like the gun, it can be useful and most likely not. Clearly depends directly and subjectively to the or by the user
MeltingMirror
It's mostly safe if you stay clear of the shady (illegal) stuff.
And beware of the trolls.
MeltingMirror
wrote
:
It's mostly safe if you stay clear of the shady (illegal) stuff.
And beware of the trolls.
A troll raped my little sister once.
depends on the site I guess
dunno001
Umm... neither? If you do stupid things, you're gonna get bit, internet or not. And if you go around thinking everywhere is flowers, well.. you'll learn real quick that neither the internet or RL is really safe, either. Just use caution, same as you should do IRL.
Happencheese
Erh, it really depends on how you use it. Like with everything else in life.
RickyFromVegas
Internet ruins you.
But then the whole world is dependent on internet now, so everybody has been ruined.
So in the end, it's all the same.
Depends on where you go to...
I mean, there's millions of bad sites out there that basically drop malware, spyware, trojans, keyloggers, etc, onto your computer, and also very inappropriate/'bad' sites (which in everyone's eyes may not be bad). But in general, it's pretty safe. Just stay off of chatrooms. Forums and sites like CR are usually fine. But imageboards (i.e. 4chan) are not (well, at least /b/ isn't *shudders*).
I mean, there are people out there (one of them is my dad) who seem to think that interacting with anyone, and I mean anyone, on the internet will cause harm to you. That's not true. The chances of you ever talking with someone you meet on the internet IRL are very slim.
I mean, I know parents are allowed to be paranoid about what their teenagers do on the internet, but not allowing them to have one public profile on a public site/app with limited information is pretty cruel (r.i.p. my instagram account :[ )
Which is exactly why I don't tell my parents about my CR account or anything.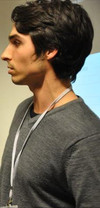 Is the internet harmful or is it safe???

FIRST WORLD PROBLEMS
The internet is kind of like a double edged blade.
Internet should just be a form of entertainment, but it's not. It's a corrupt and psychological harming social aspect believe it or not.
It screws up more people than it makes better. My opinion. Some people take the Internet too seriously.