I've had my Kawasaki up to about 125 MPH or so. Fastest I've ever gone in a car is 210, but I wasn't driving. I was in the BMW/McLaren F1 at the Car & Driver 50th anniversary celebration at Indianapolis Raceway Park. Here's a pic of me getting in the car: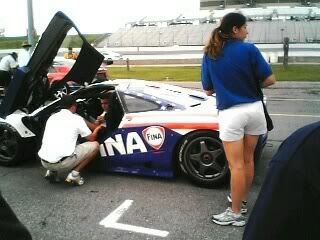 The driver sits in the center of the car and the passenger seats are on either side to the rear.
There's a couple cool vids of the car if you search for 'em. They were giving rides called Hot Laps in some race cars and some really expensive cars. One of the cars was a Subaru race car driven by Petter Solberg. He started drifting around the entire course and even was sitting in the driver's window while doing donuts. Here's a vid of Petter (you can see the donut marks):
http://www.youtube.com/watch?v=PA4puSr5w-k
Then once he started doing it the BMW drivers decided they would do it too, and this was all with passengers! It was a freaking riot:
http://myspacetv.com/index.cfm?fuseaction=vids.individual&videoid=912289
EDITED TO ADD:
here's a really good compilation of the fun at Indy, and it shows Petter doing his donuts!
http://www.youtube.com/watch?v=mWf8JtNOX-o