Uwasa no Midori-Kun
(I agree, it is a mature manga that contains some nudity, but it would be great it would be a live action because of its story line. They can just take out/change the mature parts if they want
. It would be a great drama!! )
-------------------------------------
Summary
From Tenshi-Tachi:
Yamate Midori is a 15 year-old girl and is very much a tomboy. One day Midori meets a boy called Hino Tsukasa, who came to the island she lives on for a holiday. He teaches her to play soccer and she falls in love with the sport. Midori is inspired by Tsukasa and continues to play soccer in hopes that they would meet again someday. When they do meet again Tsukasa loses her trust by doing something unforgivable. Determined to defeat Tsukasa on the soccer field Midori enrolls in an all boy high school.
(Picture & Summary from www.mangafox.com)
-------------------------------------
My Ideal Live Action Cast:
Ueto Aya
as
Midori
Agreeing with Animelena, I think she will fit the role very well. I love Aya!!
Yamashita Tomohisa (a.k.a Yamapi)
as
Tsukasa
Agreeing with Animelena again, I think Yamapi should play as Tsukasa because of the great way he can portray a bad boy role. Plus, I like the idea of Aya x Pi. I've always wanted to see them together in a drama. They'll look cute.
Akanishi Jin as Kazuma
Jin has this sweet face that Kazuma has. In my opinion, he would be perfect for Kazuma.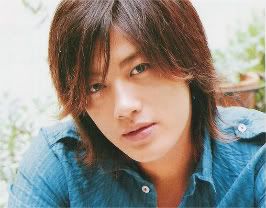 -------------------------------------