Black eyed peas on New Year's Day is about as superstitious as I get. Thinking of even trying to drop that..pretty sure all the salt mum puts in it is bound to kill us, eventually.
haikinka
wrote
:
Mafouka
wrote
:
Black eyed peas on New Year's Day is about as superstitious as I get. Thinking of even trying to drop that..pretty sure all the salt mum puts in it is bound to kill us, eventually.
I must be really stupid for not knowing that Black eyed peas were something edible up until now...
Lol, no, my fam and I eat the band..it's great, one big orgy.
all answered on here mon frere

http://en.wikipedia.org/wiki/B._F._Skinner#Superstition_in_the_pigeon
michaelbritton
wrote
:
all answered on here mon frere
http://en.wikipedia.org/wiki/B._F._Skinner#Superstition_in_the_pigeon
Hah, that's actually really interesting.
Taboo and that one Filipino guy. Fergie's always high before we even get out the weed..such a drag.
They're in the band o.0 Haha, typical Fergie.
Girls only:
If they sing while cooking, they end up marrying an old guy...
where I come from. if your shoe is upside down, you're going to die. I know, it's kinda weird.
My grandma is really old-fashioned and superstitious, so here are some of the beliefs she passed down to me.

1. Don't point at the crescent moon. If you do, the moon goddess will get angry at you and try to cut off your ear when you're asleep.

2. Don't shake your legs idly, for you are shaking away your future wealth and prosperity.

3. Don't stick chopsticks into the food and so that they are standing, it's very bad luck.

4. Keeping weapons in dark places for too long will attract evil, hungry spirits.

5. Kids shouldn't stay around old, sickly people too long or else the kids will lose some of their lifespan.

6. Never kill a snake for no reason or else you will not live to be old.

7. If you sneeze for no reason, someone is talking about you somewhere.

8. If you're indoors and suddenly feel a breeze even though no doors and windows are open, a ghost is nearby.

9. You have to eat noodles, fish and other 'long' foods during New Year for increased good luck and longevity.

10. You can't cut your hair or sweep your house during the New Year. You are damaging your luck and health for the year by doing so.

11. If you keep an item in good condition and care for it lovingly for 100 years or more, it develops a spirit of its own.

12. Don't bury a person on the day of his/her death. You have to let the body sit uncovered for at least one night so that the person's ghost realizes that he/she has died. You should also have familiar people sit with the body during the night to calm the ghost of the deceased.

13. Don't hang mirrors so that they are the first thing one sees when opening or closing a door. If you do, the person will have a lot of difficult, internal struggles that may affect his or her mental and physical health. Also, do not sleep while facing a mirror or other reflective surface. You will have headaches or nightmares.

14. Do not sleep facing an open window because evil spirits will see that you are asleep and come for your body while you can't fight back.

15. If you wake up a person while he or she is sleepwalking, that person will die.

16. Don't stay in a house that is facing a crossroads or intersection. Your luck and fortune and health will be divided. The more paths you are facing, the worse it is.

17. If your paper screens have holes in them, patch them up right away or else spirits will use these holes to look at you at night.

18. Ghosts are afraid of dogs, so it is good to keep dogs to ward them off. However, you should always have two or more dogs for this purpose, never just one.

19. If there is a sick person in the house and a crow flies in, that person will die.

20. If a person is dead and you hang pictures of him/her on the wall without praying before or after, it is bad luck.

21. Do not eat food that has been stolen from an altar or shrine.

22. Do not bring white flowers to newlyweds in a new house on the day of the marriage. White is the color of death.

23. Cameras steal a piece of your soul each time a picture is taken of you.

24. Do not cook an animal in its mother's milk. The gods will think you cruel and want to punish you.

25. People who are struck by lightning are bad people. The gods struck him/her as a punishment.

26. Do not let so much ash accumulate in the incense dish that it begins spilling over the side. The spilled ash represents your own ashes. Your life will be cut short according to how much ash you allowed to heap over the dish.

27. Don't offer rotting or inedible foods at the altar. You will be punished rather than blessed.

28. Falling (not on the head) while playing helps children grow big and strong. One mustn't shelter/protect children too much.

29. Never run while you are passing by a graveyard. Always walk calmly, in a dignified manner.

30. Wearing a piece of jade will help repel disease and increase your energy.

31. Be kind to strangers who ask for your help. They could be lost souls who might turn malicious if you don't respond with kindness. They might also be deities disguised as people who are testing you to see if you are good.
I was raised by my Grandma and she always tell me with this bunch of superstitions. She's always so serious when reminding us all this to us. I miss her already!
> Black ants inside the house means good luck. While the red one's should be killed!
> Don't go to bed with your feet facing to the door because it is like you are asking to die. (Never in our house did we have a bed facing the door unless you want a member in your family to die. )
> Do not clean/sweep at night or else you are cleaning/sweeping your luck out of the house.
> Itching hands should be placed immediately inside the pockets as this means plenty of incoming money. (It becomes a habit for me.
Oh well, there's nothing to lose. I just want money!)
>
The most disgusting:
Blood from the first menstruation cures pimples if rubbed on one's face.(I never did it, but my older sister did. Glad. Oh well, they know the fact I'm very disobedient.
)
>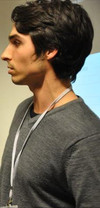 The best superstition is the "blue balls myth." LOL
Getting guys "pity sex" since 1918.