I'm a girl but I sometimes kinda dress up as a guy
Happencheese
I did once, for a party. Not really my thing.
... apparently I always dress like a guy... so I think my answer is yes.

but then again, a large sweater and jeans is just normal...
I lost a bet and I had to. As a matter of fact I have a picture lmao, but aint gon post it...
I have done it once when me and my best friend pranked her boyfriend xD it was awesome
bemused_Bohemian
With the eyesight some people have you probably wouldn't even have to. Just go with power of suggestion............behind a 30' tall electric fence.
HAHAHA OP, HOW SEXY.

Totally. Male, female, what does gender matter.
Maybe if someone dared me to
x3
man. I wish I had the looks to pull off looking like a guy. Like in those damn mangas. fyeah id do it. Hit on some girls if I actually looked like a total guy
Definitely would but only if my friends joined me too. Would be like the time me and my buddies decided to meet up late at my neighbourhood, walking on the street and pretending to be drunkards. Fun random times.
It would be fun, but not in public, no XD.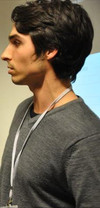 I wouldn't be able to pull off being a woman. The results would just be too...traumatizing.
I have to big of breast to dress as a man. If I had small boobs I would xD mainly for cosplaying at anime cons
YES!! and ive done it on quite a few occasions xD
i look just like my brother so they thought i was him, and of course id never let a chance like that slip ;D haha... it was a fun day until they tried to make me play the guitar x3


btw, i think you look good enough to strut the streets, Otaku ;D