Well, here in the west there is this belief that women are evil temptresses or exist for cock, and their bodies are pure temptation. That women have a natural inclination to whorishness, and there tempting bodies must be hidden or something, which in all honesty makes the effect of arousal more effective.

This is why I support each new generations ever more revealing attire to a certain degree. The more you see it, the less effective it is.
this question is a joke right? i mean no one can be that stupid can they??
Zatheko
Well If a girl wants to walk around topless I wont stop them
Sadly, it's context and society being an ass. In Greece, women bared their breasts, but covered their shoulders (which were the sexy stuff back then)
Well, 'cause girls have tits y'know. They are so not gonna respect you, if you go shirtless.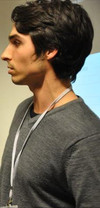 If you think about it, it's not really "socially acceptable" for guys to go around shirtless either. At a beach, sure, but you don't walk around every day and see dudes at the ATM, going to work, drinking coffee, driving around, buying groceries, filling up gas - shirtless.