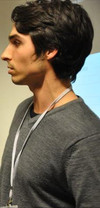 "Who is in my bathroom using my shower?"
IICHAOSII
"Why do I have to have 8am classes......"
that's simple its why the hell am i still alive and why cant i just die
I usually try and think of the dream I had.
I try not to think about anything.
Art-chan
Usually something along the lines of, "Morning already? Nooooooooooooooooooooooooooooooo!!" If it's the weekend, "*Ugh!* I'm tired--back to bed. Zzzzzzzzzzzzzz..." If it's a workday, "Nooooooooooooooooooooo!! I wanna sleep some more! Let me sleep some more!! Oh, fine! Get up...."
"so Tired" is whats on my mind
j226109
Damn looks like I've got wood again.
hawkenwatt
If I had a dream, I always think about what happened in that dream.