miss_mew
I skipped school the whole week to watch Higurashi/Higurashi kai.
So, I watch alot
o.o
school days - 9:30-10:00
summer break - around 12-2a.m.
wow
From 8 am to 1 am..hehe..my notebook is bit groggy already..haha
if its v cation is say 3pm to 2am.if i have something to watch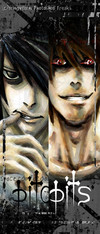 9am to 10pm... im addicted to anime...
obviously...
YES! IM ADDICTED IN ANIMES!

about the time...

it depends....

if i have school...
around 11 pm

and if i don't..
i can watch anime till morning or until new year..

LOL xD
It varys from 3 to 20+ hours depening on my mood or if I have other things to take care of . some times I dont sleep for a day in a half
I'm up from about 3-5pm to about 9-11am the next day and I sleep from 9or11-3or5 so all the time in between.
i watch until morning 4 to5 oclock then sleep
depends when it's updated, i usually watch it right after it's uploaded, at midnight, during breakfast....
1:00 a.m.
,,,,, but sometimes 3:00 a.m...

i wonder why...??
i don't notice the time when i'm watching an anime....

heheheheh