i don't think the government should be able to own guns. they're too irresponsible.
dark_paradox_21
Its not a matter of "allowing" people to own guns. Those with the guns make the rules; therefore in order to have a free society, one must also have an armed society.
NoBreyner
If guns are outlawed then only outlaws would have guns
"There are hundreds of millions of gun owners in this country, and not one of them will have an accident today. The only misuse of guns comes in environments where there are drugs, alcohol, bad parents, and undisciplined children. Period."
- Ted Nugent
"But if someone has a gun and is trying to kill you ... it would be reasonable to shoot back with your own gun."
- Dalai Lama
Guns should be legal...for a few reasons.

-To control the government.
-To prevent invasions.(Having military trained population will deter any country from invading us)
-To defend your property.
-To resist an alien invasion.
-To fight off Zombies.

Gun permits should have a few requirements too.

-A bachelors degree.(Can't have uneducated idiots go on a shooting spree, then again, we can't have masterminds plan and think out a shooting spree)...
-A conscience (healthy mind off of medications).
-A clean record.
-and must be trained.

Wether or not guns are legal...I think people are still going to be killing each other. Matter is, how...If we have guns-it'd be that much easier to kill someone.

Again, guns don't kill people. People kill people...With guns.
Yes they should.

In the United States, I think every person that doesn't have a felony or serious crime under their belt should own one.
In my country, we were founded by a militia of citizens. The right for American citizens to own and bare arms was put in the constitution in case of homeland warfare. In case the war comes to us, we're already prepared.

That of course, is my opinion. I was raised in the South. And we're serious about that stuff.

But I understand the pros and cons to both arguments. I still stand firm with my opinion though.
ryefroggy
I say yes because its a right xP it was made part of the bill of right in the USA so that people could protect themselves in case the gov went that much wrong that a rebellion was needed and just for general protection lol that right shouldnt be taken from people just because there are stupid people on this planet
so your saying if cops are patroling the streets and the see a women getting raped ''hey stop raping that women or ill blow my rape whistle'' come on imean your my buddy but ill say it plain ''GUNS DONT HURT PEOPLE, PEOPLE HURT PEOPLE'' AND IF IT WASNT
and if it wasnt guns it would sticks and not sticks it would be rocks and not rocks would be fists NOW YOU WANT TO TRY BANNING ROCKS, STICKS OR FIST now that would be quite the feat we need guns to protect our family to kill rodents and to hunt i almost got bit by to rattlesnakes then my brother shot them with a 20 ga. shotgun
in fact i have over 20 guns
i can give you a descreption of all of them but they have always been useed for good things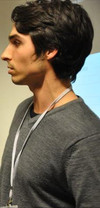 Anything can be harmful or dangerous if it's misused or improperly looked after.

No matter how child-proof or idiot-proof you try to make something, some moron out there will over-achieve and beat it.

So yes, people should be allowed to own guns.
Picturesque
I've had to really think about this question since at first I kinda liked guns (ya know cuz they blow stuff up and all that crap), but now that I've thought about it, I don't think that the general public should own guns. First of all, by buying a gun, you're supporting the military industrial complex. In other words, by buying a gun, it says to the gunmakers, "Oh people are buying guns, let's make more!" And this cycle only continues until there is no demand for guns. There's already enough demand for guns outside the US. The USA is the greatest purveyor of violence in the world. We make most of the guns in the world and we're the biggest exporter of them. In addition, international gun trade is less regulated than bananas. BANANAS! Doesn't that sound a little strange? Yeah, I think so. As for the classic argument that people kill people and guns don't, well guns make it a lot easier to kill people. If they didn't, then countries wouldn't be using them in their military forces. It's common sense. If a guy comes at me with a sword, I can at least run away, but with a gun there's a chance that I can still be hit. Plus a sword is a lot harder to conceal.This isn't rocket science people. In Japan, ordinary people cannot own guns, and the crime rate is pretty low. You hear top crime stories on the Japanese news being someone sticking ice cream in a postbox. So anyway, buying guns only supports the military industrial complex and promotes war, and guns make it so much easier to hurt people. Thus, the general public shouldn't own guns, they shouldn't need to own guns, and the government (especially the USA) shouldn't spend several times as much money as the rest of the world (taxpayer dollars btw) for their effin' military!
in my opinion, nope.
I'm not entirely sure why.
Problem is nothing would keep criminals from getting guns,so how would on be able defend them self if unable to own a gun????
snottyenglishgirl
wrote
:
but in the US constitution the right is to bear arms, not specifically guns. this would constitutionally give you the right to carry around a nuclear weapon.
Oh god, don't give them ideas.
But still, I don't see what people gain from owning a gun, sure you can say protection but that just turns into "I have a bigger gun, hence I am right".
Although I do like the idea carrying a sword for protection, at least you have to be more skilled to win a sword fight.
guns kill people, people don't lol.