No I don't, I'm definitely not ready.
Nope. I really dislike kids.
Rajyrr
I wouldn't mind having kids. It's one of my life goals, in fact.
theyre annoying and takes up all your money soo i dont want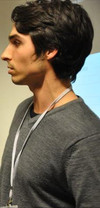 Yeah, I'd like to settle down someday and start a family, have a few kids of my own.

without second thought
YEP
alicia-m
Kids these days and threads these days, real terror.
When i am a lot older, i want a big family ~ like 4 or 5 children. i would go no further than 5.
My mother was one of 7, lol XD

i want us to travel a lot too XD
Of course, free food aaaand sex.
In the words of Daniel Bryan


YES YES YES
YES YES YES
YES YES YES
YES YES YES
YES YES YES

The more older you get the more better an idea having kids seems .