Okay, so I've been looking for this for ages. I have a lead, but I need some help. I need to find this album: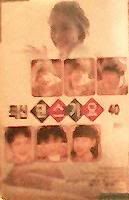 I searched the few English words in one of their songs, and got "Festival" by Cheon Sang Ji Hee The Grace. I found a different mix of the song, and Cheon Sang Ji Hee is all that comes up in the lyric search, so it must be them. Now if I can only narrow down what album that is. I haven't found it on Wikipedia yet. I hope someone here can help.
Or, barring that, if anyone knows any other groups that did the same song...?
Thanks in advance!