Popeye
Looney Toons (the original)
Speed Racer
Scooby Doo

Jennifer_2011
sailor moon was my favorite show when i was a kid if i didnt get to watch it or missed it i cried alot so my dad always wound up taping it to avoid that from happening lol
4 Words

Teenage Mutant Ninja Turtles

Oh and Xmen cartoon


Age 4:Inbetween the Lions,Bugs Bunny
6:TMNT,original .and 2000 ver
7:DBZ,Yugioh
Oh wow, flashback. Yeah I loved these ones. So much.
I was all about blues clues; that was my liiiiife~

I also watched Gullah Gullah Island
Bear in the Big Blue House
Out of the Box
PB&J Otter
& Little Bear

Those were my all time faves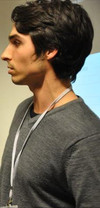 Extreme Dinosaurs were pretty kickass.