I decide to lurk and I read that kippu got nuked? Kinda reminds me of Tammy's run in with a "hacker"... or was that steph?


5 months seems to creep up on me real fast... and it will be all over by this weekend. God, board exams suck monkey fuck. I demand you all wish me luck because I'm that good.
chrome_mist
wrote
:
animegirl2222
wrote
:
Unrelated: Can someone please approve my membership for That Awesome Group or whatever it's called? Or am I forbidden from ever becoming a part of it, because you all dislike me now?


Are you awesome enough to be one of us?


Yes because I'm a wizard. I don't know what group you guys are talking about =/ uhuhuhuh. Hi Chromyyy :]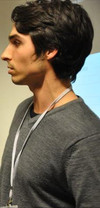 Did someone mention "awesome?"
Ghost Moderator
I didn't know 9 year old people allowed here... Welcome to CR!
HelloKitty Muffin'King Moderator
mochacafe
Spoiler Alert! Click to show or hide
I didn't know 22 year old people are on this site either
Guys pls.. Don't be hating on me having awesome powers.