i highly recommend it the album rocks my socks && TAEYANG is sexayy beast lol :]
Male group, Big Bang's member Taeyang's first solo album 'HOT' is attracting hot attention like it's title, making a record of 45,000 pre-ordered albums.
Yang Hyun Suk, founder of YG Entertanment, has confirmed that Big Bang's Tae Yang will be releasing a solo album.
The 19-year-old, whose real name is Dong Young Bae, will be releasing a solo single album in September.
On January 12, Yang stated on YG's official website (ygfamily.com), that "by watching Tae Yang perform, it just assured me that releasing a solo album was something I wanted to see him do."
Yang continued to praise Tae Yang's singing capabilities, as well as his dancing skills. He began to reminisce on a time Big Bang was invited backstage to singer Ciara's concert in Japan, and how Tae Yang was admired for his dancing skills by her back dancers.
Yang confidently states that he believes the album will be a great success, and that he hopes fans are anticipating the album just as much as he is.
Taeyang's entertainment company, YG Entertainment, revealed on the 21st that "Taeyang's first solo album 'HOT', planned to be released on the 22nd, has a pre-order of 45,000 albums" and "it is far more than expected so it is very surprising".
Furthermore, the entertainment company happily expressed that "the attention is so great that a lot of people even want us to have previews to listen to Taeyang's solo album in advance."
This album was planned not to expect popularity, but to show Taeyang's unique music and performance to the fans who have waited for so long.
The album is filled with sophisticated African-American style music that fits Taeyang's nickname 'Black Vocal.'
YG's staff member Kang Sun Young said "the amount of Taeyang's pre-ordered albums is almost the same as the amount Big Bang's album sold when it was released" and "these people do not merely like Taeyang out of the Big Bang members, instead, they look upon Taeyang as a music fan, proving that they were expecting and supporting his music latently".
Taeyang's first title song 나만 바라봐 (Look Only At Me)' was co-produced just for Taeyang by Kush, who produced 1TYM's Teddy and Gummy's hit 미안해요 (I'm Sorry).' It's lyrics represent a man's selfish heart shown in a sincere way.
The album is going to be released this upcoming Thursday on various websites and offline stores.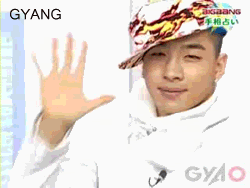 what do you guys think of the album or basically about taeyang making an album?
* GO TO MY PAGE TO HEAR TAEYANGS ALBUM :]*