Spongebob Squarepants
Avatar the last Air bender
The Simpsons
Family guy
Teen Titans
Ed&Ed,&Eddy
fairly oddparents,
danny phantom
family guy , american dad , the SIMPSONS! , avatar .. spongebob ..
american dad
family guy
futurama
south park
I personally don't give a shit where an animated show comes from, so I like a lot of non-Japanese ones too.
Batman the Animated Series, Batman Beyond
Courage the Cowardly Dog
Foster's Home
Powerpuff Girls
Johnny Bravo
Dexter's Lab
The Weekenders
Doug
Hey Arnold!
Angry Beavers
Futurama
Boondocks
South Park
Avatar the Last Airbender
Samurai Jack
family guy,south park,classic cartoon network,classic nick,futurama,any xmen,teen titans
BEN 10 XD
teen titans :P
jonhy test
Captain Planet.

Gonna take pollution down to zero!
Spider-man Unlimited
Teenage Mutant Ninja Turtles 2003-2006 / Lost Episodes
Di-Gata Defenders
HUNTIK
W.I.T.C.H.
Winx Club
Totally Spies
Drawn Together
Monkey Dust
Aeon Flux
Viva Pinata
Chaotic M'arrilian Invasion
Superbook
Avatar the last airbender
Celebrity Deathmatch
Sabrina's Secret Life
Xiaolin Showdown
Super Robot Monkey Team Hyperforce Go!
Skyland
Stripperella
Kid Notorious
Dragon Booster
Donkey Kong Country
and Mega Man
I'd say:

-Sponge Bob
-Fairly Odd Parents
-Rugrats
-Simpsons (the old episodes)
-Family Guy (the old episodes)
-Beavis and Butthead
-Carmen San Diego
-Daria
-Those Disney cartoons from the 80's and 90's, like "Talespin", "Rescue Rangers", "Gargoyles", etc
-Dexter's Lab
-Powerpuff Girls
-Total Drama Island
-Flinstones
-Jetsons
-Hanna Barbera shows
-The "New" Scooby Doo movies (one hour episodes that feature some celebrity)
-Those Scooby Doo made for TV movies with only Shaggy, Scooby and Scappy
-Flapjack
-The new Justice League
-Johnny Quest (both the original and the 90's version)
-X-Men (the original series)
-Batman and Superman (the 90's cartoon)
-Last but not least, those old short animated films from the big studios, like Disney, Warner Bros, Paramount, MGM, and Universal; like the Looney Tunes, Mickey Mouse, Betty Boop, Woody Woodpecker, etc.


Long animated films

-Anything produced by Disney up to 1994.
-Thumberlina (the 1994 Warner Bros. edition)

CG, in my opinion doesn't count.


i like 6teen on Cartoon Network.. And Chowder
spongebob ish effin' hilarious
I luffles Kappa Mikey, it's not made in Japan the main character wins a free trip to Japan and becomes a famous actor for a popular kids show
They even have dancing sushi!!!!!!!!!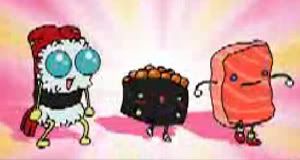 Ben 10

Love the show~~

Also The Powerpuff Girls. Best show ever~
But I also get all the jokes or meanings about The Beatles in it. lol