1.)
SAKURA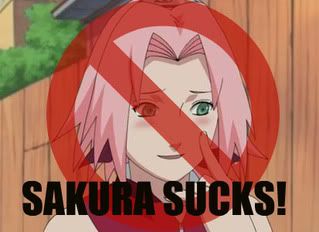 (Oh god i hate Sakura, I hate her with a FREAKIN PASSION. after thinking about it I hate her more than Orihime, AND I DIDN'T THINK THAT WAS POSSIBLE! She doesn't get that Sasuke doesn't like her. I want to shave all of her pink hair off and make her eat it, EAT IT ALL I SAY! SHE'S ANNOYING WITH HER PINK UGLY BIG ASS FOREHEADED SELF. SHE'S USELESS. um she can punch the ground, **thumbs up** a monkey can do that
alright i better stop...)
2.)
Orihime
pic was made by mwah [:
(some people might like her, but SERIOUSLY, she needs to DIE, get shot, hang herself, SOMETHING! **tear tear** I can't take it anymore. Her squeaky voice, her uglyness, HOW SHE GOES ON AND ON AND ON, annoyingly annoyance, ditzyness, JESUS TAKE IT ALL !)
3.)
TOHRU
(pushes her into water and drowns her. OKAY, she doesn't do anything wrong AT ALL. She's too perfect -.-)
4.)
YUUKI
(ohmigod, is it just me or is she as ANNOYING as a loud alarm clock? && she just doesn't get that hitting someone with a stick WON'T hurt them ROFLLLLL!)
5.)
Fuka
(it's beyond hatred. Fuka? More like Fucka. she asks Akito out even though she KNOWS that he likes Sana && Sana is her best friend, TWO-FACED-BITCH!)

I have a ton more but those are my top five.