Hair Designing Tutorial Guide
Intro:
Hello!
In this tutorial guide, I will be demonstrating how I make my hair for
avatar designs.
---
You will need:
- Photoshop, or any similar paint programs.
- A mouse or tablet. (I don't have a tablet, so I use my mouse)
- Your own logic will help you greatly.
---
Information:

When you design things, using a reference can help you out alot. I usually
just go to Google image search and type in the name of the character,
series, item, etc.
Be sure that when you search for a reference, the image shown is what you
think will look good if drawn onto the avatar. You don't want a direct side
-view or direct fron-view item on your avatar, or it will look strange!
Designing items should take time, and should look good on your avatar.
Also, it is not good to just cut out pictures from the original reference...
Doing so will probably make the item look strange and stand out from the
avatar's style!
With Google image search, I was able to find a good reference image of MOMO
from Xenosaga, whom I will use to demonstrate creating hair for!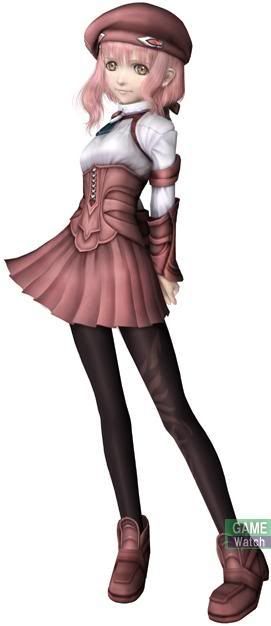 ---
Layers:
Always use layers!
In this picture, you can see I have named the layers, the bottom being
underneath the top.
Leave all of your layers
transparent
, except for the background!
The background can be any color of choice, but I suggest you also make a
white background, since it is the color Crunchyland uses.
You will greatly benefit from using layers for each different thing.
If you wanted to recolor the hair, you could easily do so if it is in
layers, seperate from the lineart.
Each of the hair's color tones should be in different layers as well,
because it would be terrible if you wanted to change the color or contrast
of just one tone, without changing the other tones.
The avatar should
always
be it's own layer! If you have merged the
avatar with one of your working layers, you will end up needing to erase it
in the end, which will just be work!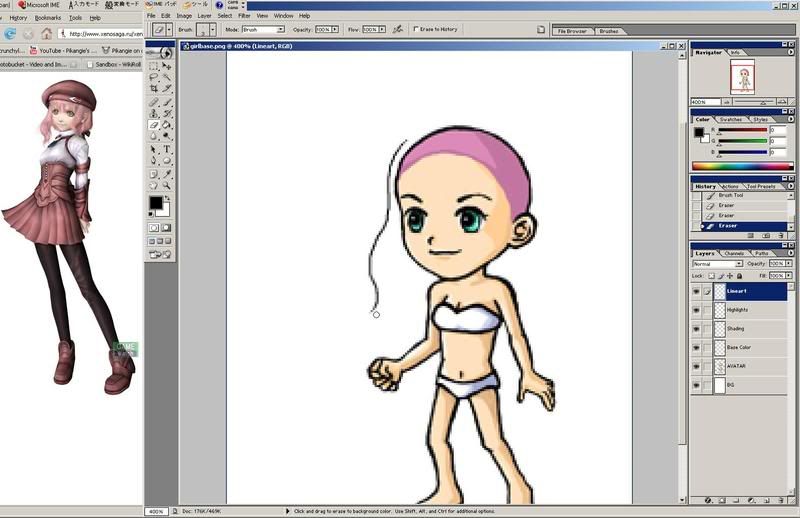 ---
Line Art:
Be
absolutely sure
that you are on the layer for line art, or you


will
regret it!
From this picture, you can tell I have Photoshop just above my internet
browser, where my MOMO reference resides.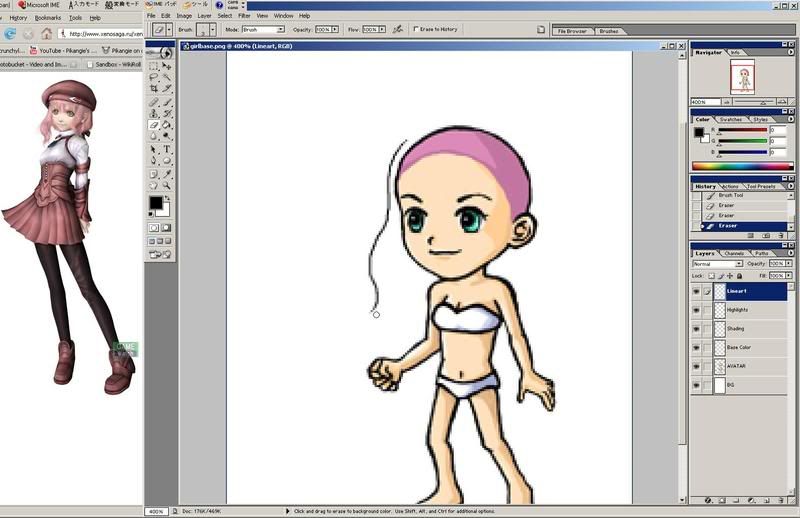 For line art, I use the default 1 pixel brush, and simply draw out how I
want the hair shaped. This can be challenging and take a while if you are
not well coordinated with a mouse or tablet.
If you want to make a straight line with the brush, you can hold shift while
dragging the mouse, but it will only work either up-down or side-side.
Another way to make straight lines is to mark the start point, then hold
shift, and click on the end point.
Be aware that using straight lines can result in choppy looking line-art,
and shouldn't be used too often, unless making a straight object, like a
book or pole item.
Continuing on, you can see that the difference between the drawing and the
reference isn't exact. You shouldn't put too much detail into this at first,
and concentrate on the shape. Be sure that the hair will fit snug yet loose
onto the head of the avatar.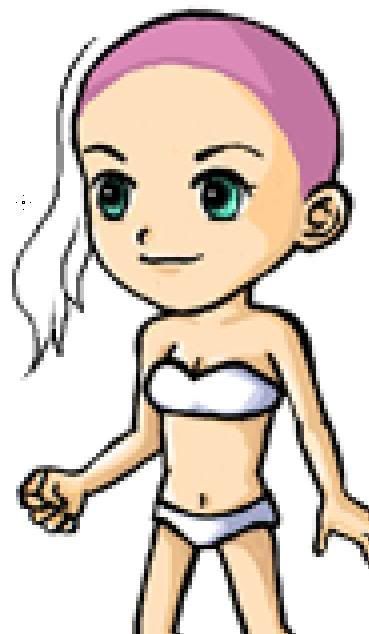 You can also toggle the layer visibility with the eye-shaped icon in the
Layers tab to see how it looks without the avatar.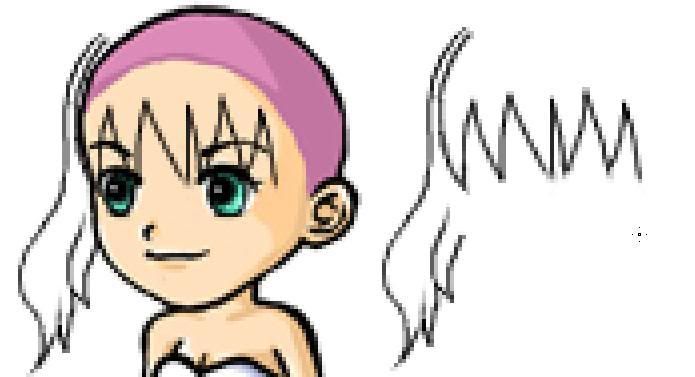 This is the result of my line art.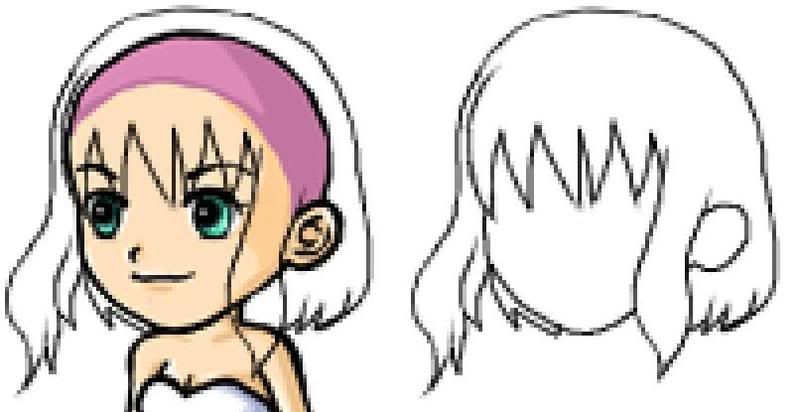 ---
Base Color:
When choosing the base hair color, you should choose the color which seems
to be the main color, the median color.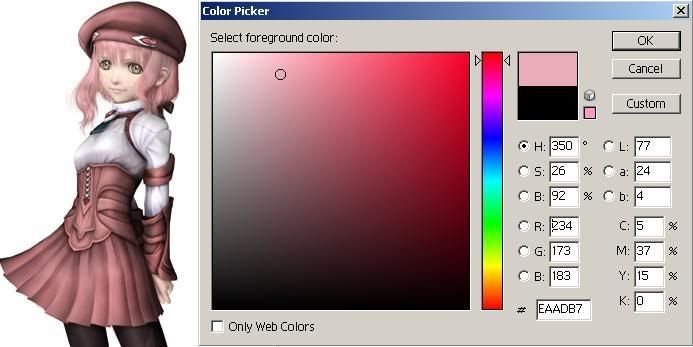 Be
absolutely sure
that you are on the layer for base color, or you
will
regret it!
After that, you can choose a brush size of your liking. You can either save
time by using a fairly big brush, or spend more time and use a smaller brush
to get in the thin areas first.
You can choose to be messy at first, or be neat and stay in the lines at
first, but either way, you
will
be erasing the edges at the end.
Using a bigger brush can look like this. Don't worry at all about going out
of the lines for now, because you will need to fix it at the end.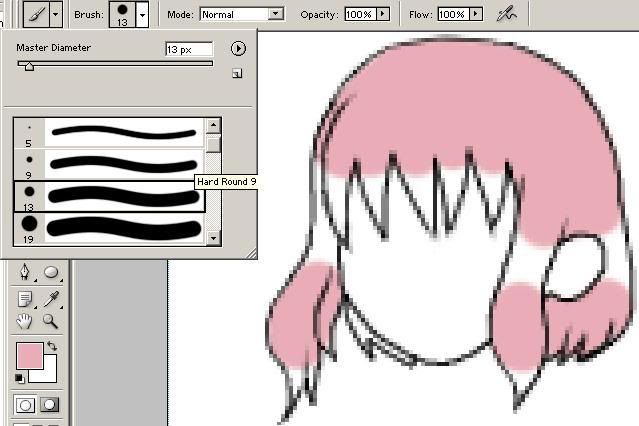 This is the result of using a smaller brush (5 pixels) after the bigger
brush.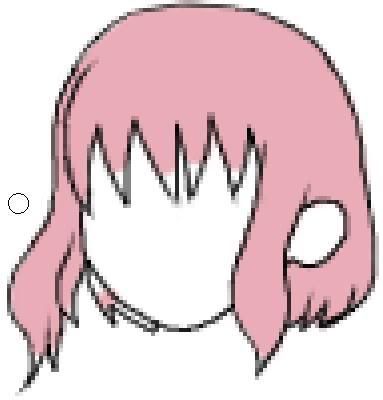 The brush size you use should be getting smaller and smaller until you
finish getting in the small thin areas.
Once you think you've finished, you can make a new layer, this time a black
background above the white one. This will help you see leakage of the base
colors from the lines. When you clean up, you should toggle the black layer
on and off, because it tends to happen where you may erase more than
neccessary.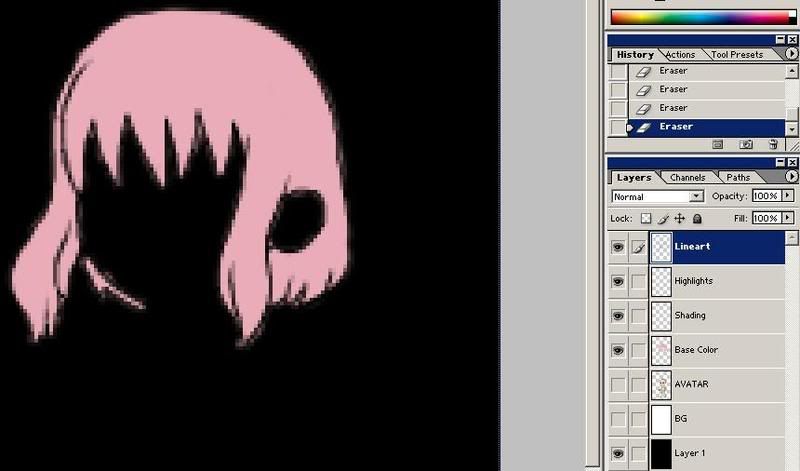 When you finish cleaning up, this will be the likely result! Not good
enough? Move on to the next section to learn about shading!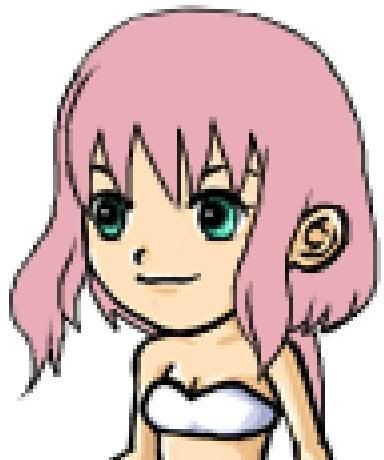 ---
Shading:
Be
absolutely sure
that you are on the layer for shading, or you


will
regret it!
Honestly, I am not that good at shading. Also, because MOMO is a 3d video
game character, it can prove to be challenging to use anime-style shading,
as you may need to do some guess-work. However, this is how I will do it.
First, choose a color that is bottom-right of the base color. You should
choose something that has some contrast, but not too much!(I added the
ponytail just then, to the line art layer, by the way.)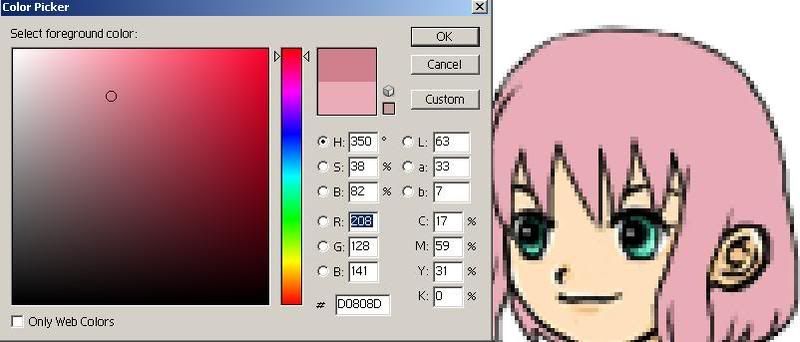 Here you can see I've started off by shading the right side of each hair
piece, and being messy in the process. Don't worry about the base color's
layer, because you are not affecting it now.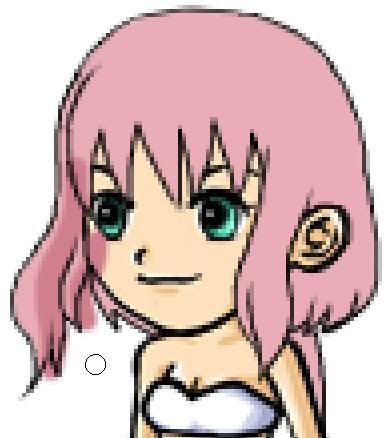 When shading, you should also notice how I taper the amount of darkness at
the ends of the hair, as well as the start.
Shading gives the look of lightilluminating the left side of the avatar.
This is my result.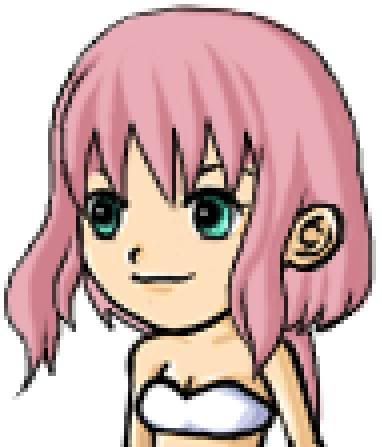 Still not satisfied? Move on to highlights!
---
Highlights:
Be
absolutely sure
that you are on the layer for highlights, or you
will
regret it!
You should start off by seeking a color to the top-left of the base color.
Something bright, but not too bright!
You can see I have started off with a simple tapered line. Just like the
shading process, do not worry about going over the other color tones, as you
will be erasing it.
This layer shouldn't be used too heavily, as it indicates the areas of the
hair which pop out the most.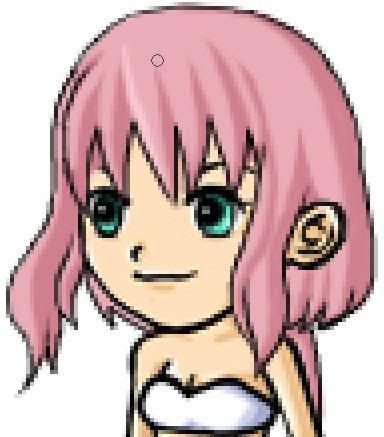 The tapering of the highlights is very much like the shading, but it goes on
the opposite side of each hair piece, and it is thinner as well. Usually it
is also shorter.
This is the result of adding highlights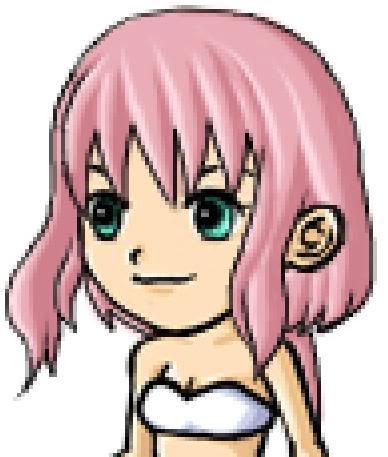 Different anime styles use different highlighting techniques. As you can tell, for my Miko set, I've used a different way of highlighting, which doesn't taper as much as the way I've just done MOMO's hair: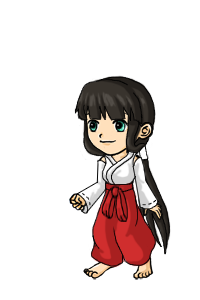 So I've just demonstrated one of many ways!
In the end, it may look something like this.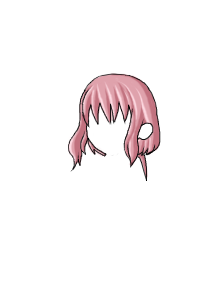 When you submit it, be sure that you have positioned it properly onto the avatar, and that you hide the background layers, making sure it has no background when you save! I personally find that saving as .PNG files seem to work best for me, because they support transparency, and preserve the exact colors, which .GIF files tend to lose.
---
End:
Hopefully this has helped you! Please reply in this post and tell me how it
worked for you, or ask any questions, and I will try my best to help!
---