There isn't enough people trying. I don't see any passion in people anymore.
There is so much lacking in this world that it would be truly hard to list it all here. This world is steadily growing because we the people are constantly changing it. Now we find that buildings reach the sky, everything can be accessed with the touch of the finger and almost anything is possible with our technology and resources; however, despite how much it may change we can never really gain what we need from this world. If one is able to come to realization of what there true purpose is in this world, then and only then can they gain what this world is lacking.





Everyday brings new grace and mercies.
Queen Moderator
LainZero
Common sense is lacking severely.
Common decency.
Common Courtesy.

Oh...I should edit the word "Common" out of all of those, because none of those are even close to being as common as they should be.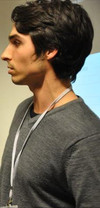 We need more happy hours.
more chaos, man I love chaos
otaku1225
Love
Honesty
People who follow their dreams.
Sexy.
But don't worry.
Justin Timberlake will bring it back.
Clean water for millions.
Dignity.
Knowledge.
Common sense.