Here's a short tutorial I just made for another shading/highlighting style.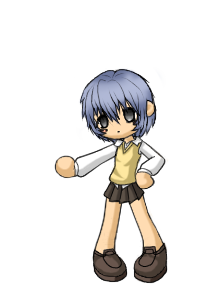 If you'd like to achieve this style of shading which I've started using recently, it's very very easy(and looks very fine as long as you have fairly detailed lineart)!
You would basically do the above steps, but do not shade yet. When you have finished the basic colors and details, you can start. Be sure to make highlights and shading on
SEPERATE LAYERS
!
Choose a color that will be suitable for the highlight of the hair.
Simply grab a big fuzzy brush from the default presets. (I used 17-27 thickness), and strike through the part of the hair that is to be lightened(in my case, I did a slight "U" shaped arch line for her bangs).
When you've gotten the shape you want, simply erase the sides, which are off of the hair. You should also check for any really light spots you missed with a black background layer.
---
As for the shading, simply find a subtly darker color from the main color. You can probably use the same brush.
Just like the highlighting, it's good to have a nice arched shape, but this time draw it at the bottom of the hair. You can also use it for the middle-top of the hair, as you can see from my example.
---
And it should turn out nicely when you've done it all!