Germany a nice country. i find it weird how Germany and France hate each other and now they like best friends. but now Germany kind of makes France there pawn in the eurozone.
the German language is nice aswell as very beautiful language. just idiots who constantly talk about its history like hitler. but for every idiot who thinks hitler was Germany hes not hes Austrian.
Pantsuuu
wrote
:
I'm from Germany
, but (unfortunately?) I'm not really interested in german culture.
I would even go so far as to say that I don't like our culture.
On the other hand the language is pretty relaxing ( imo ofc ) compared to other languages ( i can speak 4 languages )
I've always dreamed of living in japan but thats why its called a dream , right?
you honestly dont want to live in japan, there economy is getting worse. your better in germany where its economy is good.
I've got a mostly German background with some Russian in between, though I can only speak small sentences in German and no Russian at all xD
I'm from Germany, too. I'm quite proud to be a German and I like our culture as well as our language. Foreign people say we sound pretty aggressive or angry when speaking German. Is it like that? Haha.
I'm pretty interested in other cultures though. So I love the UK, Ireland, The Netherlands, Poland and Scandinavia most :]
Germany is a country that I have a lot of interest in visiting. I had some relatives live there for a while and they always had nice things to say about the country (and they brought back some neat gifts too). I studied the language in college and the courses also went into German culture as well, so I developed an even deeper interest in Germany.

I don't know too much of the language, but Germany is still one of the places that I'd love to visit one of these days.
I went to Germany this year, and I must say I really liked it.
I couldn't really find a bad thing to say about it other than that fact I can't speak fluent German.
I would probably hope to live there later in life.
I was born in Germany.
Weisbaden, Germany. Dad was Airforce and stationed there at the time. Visited there again when I was 16.
Picturesque
Germany is a very interesting country. If I were to relate it to another, I might say it's similar to Japan in a few ways. They have a lot of festivals, and they think free time is very important for spending time with family, having fun, etc, unlike America. I took German in high school and we had a trip to Germany and I'm currently taking Japanese in college and plan to study abroad in Japan. But yeah if I were to choose another country to live in, it'd either be Germany or Japan. Also, to those who have worries about racism/ anti-semitism in Germany, it really is like any other country, not overtly racist in any way. We have Neo-Nazis right here in America, including one lunatic who recently attacked a Sikh temple. But anyway, I'd encourage anyone to visit Germany, especially during Christmas time so you can check out the Christmas markets and really experience the culture.
Tim_The_Enchanter
Germany is one of the main places i want to travel to, I like the women, drinks, views, and pretty much everything else about Germany and i want to be able to see it in person instead of a magazine.
Germany is full of Alcoholic people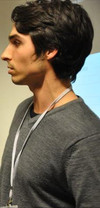 I have a few cousins from Hamburg I've only met once. Still I'd rather visit Austria, such a beautiful country.