Member
The things hot shot and slam dunk have in common : flying basketball,fireball,the 3 characters being the main lead.
The things hot shot and dear boys have in common:The 3 characters being main lead,having 5 basketball player on their first game.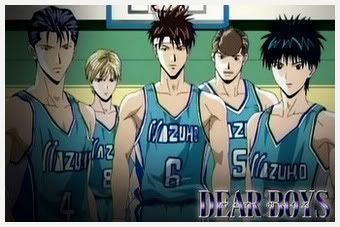 Hot shot
Member
sakuragi and da ying have the same character...it is just my perception...
Member
to tell u the truth.
i dun know.
cause if u see...
is the combination of both
YDY is like Hanamichi Sakuragi in slam dunk
he was really very confident of his basketball skills exactly like HS
and DFX is also like Kaede Rukawa who is calm and always feel YDY is an idiot
well at least when they first met
but the plot is also like dear boys
when YDY is the key member that revive the team just like Kazuhiko Aikawa in dear boys

Member
Slamdunk, i think..

Since it has a lot of similarities..
it's based on slam dunk.. especially the character of sakuragi and da ying is really the same..
Member
i think it has similarities with slum dunk
like YDY and Sakuragi being funny and good at basketball even though they didn't really know how to play at first.
then there's DFX and Rukawa..good at playing basketball but has cold personalities.
then the two brothers and i think it was Mitsui who loves to fight (not so sure).

but this isn't really based on slumdunk. just have some similarities, that's all.
Member
Neither..
coz alum dunk and dear boys is more like real basketball
and hot shot is imaginary basketball..
but the character is kinda like those in slum dunk..
well,I agree with leonea.
the character's personality is much similiar to Slam Dunk's *I'm just assuming this cause I've never read nor watch Slam Dunk before though I've the entire collection of Dear Boys*, while the plot is nearer towards Dear Boys where the basketball club is being revived when a basketball genius enters the school and yada yada.
Member
In one of the synopsis:
It was said that Hot Shot
IS BASED ON
SLAM DUNK! (like bits and pieces of it)
So there is not mystery to this...
Member
Maybe it is a combination of both.
there are slight similarities in hotshot and slam dunk but its very slight.

Sakuragi and Da Ying are different in many ways. the only similarities they share, are the fact that they are beginners at basketball. Da Ying grew up with an interest in the sport sakuragi didn't. Da Ying learns at a much quicker pace than sakuragi.

also from the first post. it says the similarities with Hot Shot and Slam dunk are : flying basketball, fireball

i'mnot exactly sure what you mean by flying basketball. but i can assure u, not a single time in slam dunk, did a ball go on fire.

also, shohoku in slam dunk was not the worst team. they just weren't in the top four. Pi Li is at the absolute bottom.

IMO, there aren't many similarities, but there a few extremely noticable ones that might make you think that alot of it is the same.
Member
Well I think it's both....
i juz think that da ying nd sakuragi r kinda the same....
i didnt have chance to watch dear boys.. i think its slum dunk..love that series... rukawa..rukawa!!
I think Hot Shot is based on Kung Fu Dunk. The slam dunks are similar to the movie