long vacation, hotaru no hikari, galileo, and this really old dorama called kimi no tame ni dekiru koto (anything for you)..
btw why i can't find kimi no tame ni dekiru koto anywhere... (even on cruchyroll???!!!) i really want to watch it again
gokusen, tantei gakuen q, hana yori dango, LAST FRIENDS, 1 litre of tears, sensei wa erai, hana kimi
Nodame Cantabile and Last Friends
One litre of tears...definitely..must watch

Last friends i like the plot and the cast is just awesome

Nobuta wo produce friendship is just deep...

Hana Yori Dango maotsujun couple<3

Hotaru no hikari..haruka ayase is different...


I know so many jdramas, but havent watch it...
but IM MORE ON JDRAMAS THAN OTHER ASIAN DRAMAS...
Absolute Boyfriend
NUMBER 1 IN Y HEART...
Hana Kimi Japan
Hana Yori Dango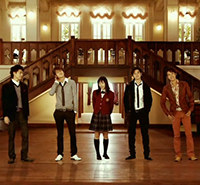 hana yori dango n hana kimi
kurosagi
first kiss
hana yori dango
hana kimi
i would say Memories to remember, Memories of Tomorrow and Shinobi. Try these movies love it a lot!!!
Last friends for sure. it's simply the best.
hana kimi
last friends
zettai kareshi
hana yori dango
nobuta wo produce
one missed call
one pound gospel...
n many many more ^.^