u no i love to watch ashita no nadja!
Ouran High School Host Club
Special A
Yamato Nadeshiko

zendude
wrote:
Kirby:
Or Pichu:
You should see the live action version of something based on Kirby, fucking scary.
'nuff said.
probably him:echizen ryoma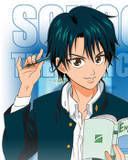 LemonLover71040
wrote:
Deidara!!!!!!!!
*faints*
haha how come?
any girl from bible black cuz i know that girl will end in a high note
sakura kinamoto - ccs
syaoran li !!!!!!!!!!!! < 3 - ccs
mikan - gakuen alice
NATSUME < 333333 - gakuen alice
ikuto - shugo chara
tadase - shugo chara

the professor guy from angelic layer.
ALL THE OURAN CHARACTERS < 3
Gin
kagura
sadaharu
Okita

Allen Walker, Miharu Rokujo, Kotori Shirakawa, and Soul.
HIKARU HITACHIIN!

ZERO from VK

Kaname Kuran!
Ginji. Raitei mode or whatever, he always makes me laugh
doreamon (sp)
the mechanical cat is so damn funny
DUUUUHHHHHHHH
Spoiler Alert! Click to show or hide