papagolfwhiskey
wrote:
Ah well that's different then. Feeding the trolls is as good a way to waste time as any I guess.
Yeah, I'm finding this interesting despite my desire to kick Koichi upside the head. At least there's no mindless worship of him as there seemed to be of Leluch in Code Geass. That I never understood. In spite of all he did the fans seemed able to forgive him of everything but Hate the lessor villains around him with a passion that was ... disturbing.
That's right. It didn't stop me from getting paid, while works getting done around here.
You comparison between Kouichi and Leluch just gave me an insight; it's like the difference between DC's Superman Prime and Superman.


According to Infinite Crisis writer Geoff Johns, "Superboy-Prime's really frustrated with what his life has turned into and, unfortunately, that frustration is going to be taken out on the world." He also mentioned that "He's been wanting to show the world what he can do, because he barely had a chance to be Superboy. He was Superboy a little bit before Crisis on Infinite Earths and then—BOOM!—his world was wiped out and that was it."
Sounds awfully like a certain 15 years old boy who's drunk on power, don't you think?

Having lost his homeworld of Krypton, Superman is very protective of Earth, and especially of Clark Kent's family and friends. This same loss, combined with the pressure of using his powers responsibly, has caused Superman to feel lonely on Earth, despite his many friends, his wife and his parents. Previous encounters with people he thought to be fellow Kryptonians, Power Girl (who is, in fact from the Krypton of the Earth-Two universe) and Mon-El, have led to disappointment. The arrival of Supergirl, who has been confirmed to be not only from Krypton, but also is his cousin, has relieved this loneliness somewhat.

In Superman/Batman #3 (December 2003), Batman observes, "It is a remarkable dichotomy. In many ways, Clark is the most human of us all. Then...he shoots fire from the skies, and it is difficult not to think of him as a god. And how fortunate we all are that it does not occur to him." Later, as Infinite Crisis began, Batman admonished him for identifying with humanity too much and failing to provide the strong leadership that superhumans need.
I think that Leluch is more selfish than Superman, other than that their situations are rather similar. Not to mention the fact that Leluch looks hot as a girl, while a hall full of Supergirls is just as appealing: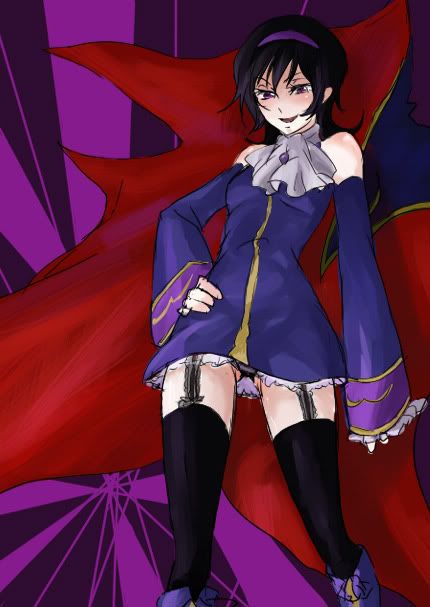 Yahoo!