I don't love him but I do like him better than many of the characters only because he is kind of cute.
i hate toushiro...they say hes a genius but hes not...and hes not that cool
i really dont no y but i kinda find him cute.><.....i like it when people tease him!!!!!!! lol
Member
maybe he is an example for alot of true heros in other animes
Member
hitsugaya - cute hair, cute smile, cute face, good at soccer (FTW) , iunno, hes just soo friggin CUTE!
I used to love him, but I don't really like him anymore.
Looks cooler than Cloud Strife.
That science nerd needs a girl friend
He's got a wide selection. But not as wide as Ichigo's though. Every chick likes Ichigo
because he's so cute ! adorable ! strong ! genius ! amazing !
i love all about him ! :D
yes, he just looks badass with icy dragon wings.
because he's really cute and small and tries to act serious, but isn't taken serious at all!
me me!! I like him 'cause his chibi and oh so so cute!! X3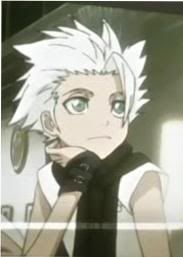 His element of fighting is ice and ice is cool!