Manji and Rin from
Blade of the Immortal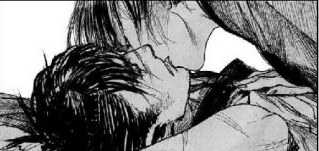 Keiko and Yusuke from the final episode of
Yu Yu Hakusho.
This entire episode was so sweet and did a really nice job of wrapping up the series. I love the characters in this show.
This isn't really a kiss, but I love when Sanzo hugs Goku here in
Saiyuki Gaiden.
I don't think the two have a romantic love for one another, but I don't think it's too far fetched to say that they complete one another either.