KawaiiGrl
wrote:
ancestralbattlebrother3
wrote:
nihao this is my third forum so i was curious fyi mine is kenshin
sooo kawaii
!!
awwww its nice to see a MAN stand up and say what they want about another dude seriously people these day thinks that if you like a same sex person your automatically gay....society these days
anyways mines is
Ichinose Kotomi (clannad)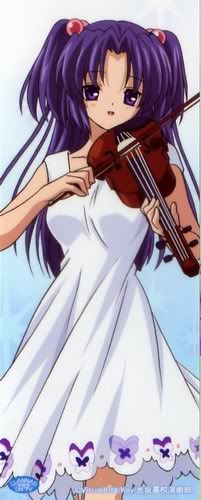 lol forgot to put why
well
she's smart
funny (sometime
cute
knows how to play violin....i think
ultra cute
I MEAN REALLY CUTE lol
...
...
...
..I'm pretty sure that liking someone of the same sex IS considered gay, "societal standards" or not...
Now this is an interesting forum to find a loophole in without sounding vaguely homosexual. The loophole is, of course, that the OP asked for same-sex. "Sex" refers to the body parts, as opposed to the gender of the subject. Ergo, it can refer to someone that has switched genders (as the Japanese apparently love to do to their characters). Unfortunately, I don't know of any anime that have women becoming guys. Dang.