Woke up
Worked out
Study...
Talk with stupid people LOL
Played games
Fucked up my ankle
washed clothes for work tomorrow
Watched some anime
Kicked it with an old school friend tryin to hook me up with drugs.
post this
gonna go shower and prob talk with my bestfriend
Then sleep...
Cleaned... Drank coffee and talked with two people who came visiting us... + the typical things I do everyday.
allierose
i went to work this morning. it was pretty slow

i had 2 dogs for yearly shots, clipping some nails on a dog, and a cat that was turning yellow and he was only a year old. so he probably had a bacterial infection in his liver. the poor baby.

one woman wanted me to give her clavamox liquid, this antibiotic. it was for her cat for kidney problems. we hadn't seen the cat in over a year, AND it never had blood work done so there was no way to tell if the cat actually had kidney problems.
i told her that the doctor would have to see the cat before he actually could give some antibiotics. she asked if i could get her some. i told her no. im not allowed to. i cant just hand medicine off willy nilly because some random woman wants it! THEN she asked if she could have the medicine for another cat she had! ha! im not THAT stupid....i told her to bring the damn cat in so the doctor could look at it. of course i didn't say damn...i would have gotten in trouble...
yet she still tried to get some....
so she finally left after 5.2 billionth no and came back with the cat, which she should have done in the first place.
the problem had nothing to do with the kidneys. the bladder was blocked. so if she just gave the cat clavamox liquid, it wouldn't have helped and the cat would have died tomorrow. we have to put a catheter in the cat so he could get all the urine out of the bladder.

someone else brought a puppy in that has been vomiting since wednesday...vomiting plastic...
they had to wait ALL the way to saturday, 10 minutes before we closed to bring this puppy in

you know if i see a dog throw up plastic, im gonna take it to the doctor, i would even if i didn't know what i know now. i would think: huh this is bad, a doctor should look at it!

i hate stupid people

im sorry i ranted....i need an outlet lol
Something that decided my future
Bluenotes , bought some jeans asked if their hiring...
Eating my subway stuff :D
Photoshoot.
Roleplayed Kuroshitsuji with my friend.
Woke up at 6am just to watch the Olympics...
Mexico Vs Japan semi finals, Goo Mexicoo!
Then Brazil Vs S Korea semi finals...
Jeez, the Senegal Vs Mexico was intense, I got scared.
Sleep in

What else are weekends good for.
Post a forum on this topic and other things. too lazy to name em' =-=
endured one hellish shift @ work.. good gawd.
Drank and did illegal stuff until 1 in the morning...
-Crashed at 6 in the morning
-Woke up at 8 to the sound of my neighbor's dogs
-Fell back into bed until noontime
I seriously don't even remember what I've been doing all day...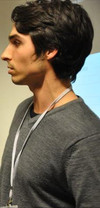 Going to watch The Dark Knight Rises IMAX tonight with my brothers and sisters, which I'm really excited for.
There's nothing quite like the goddamn Batman.
berkleyclaire
I worked the majority of the day, and had lunch with friends. Now, I'm off for some evening drinks to catch up with the ladies before college starts again.
got cartilages pierced. So much for a professional environment when internship is coming so soon...