I broke up a fight between two girls.... it wasn't hot.
And I spilled strawberry yogurt on my silk tie
... and my pants
ugh
I woke up, used the washroom, talked to my roommate, then went back to sleep.
After I woke up a final time, I watched the rest of xxxholic and played Trinity Universe.
Now its 12 am, and I'm bored.
Checked in with the student squadron. Exercised. Left. Watched anime.

Kind of loving my life right now.
Went to school, went dress shopping for my winterball dress with my date Aaron <3 took crazy pictures, went to practice and answered questions
I woke up, took a shower, came online for a while and then put on my clothes and went to get something to eat and back online..watch a movie and play some video games and came home and now im online doing this..

Wow..my day was lame lol..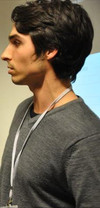 Helped a friend move his house.
From midnight to 5am I was downtown with friends, we went for a couple beers and talked a lot, then we went for food, came back at 6am to sleep till 1PM and been gaming since then yay! I like weekends
i shopped.and watched anime.and browsed cr.
bemused_Bohemian
Watched anime on CR then bit the figurative bullet and bought BD Limited Edition Accel World V1 and V2 direct from Japan (gonna average $40/episode including EMS shipping). Oh, the agony of loving anime......poor wallet.
netdisorder
Went looking at apartments. Terrible day for it because they were all closed for labor day weekend.
Went fishing, got home and played Diablo3.
Started research and work for my economic classes, finished an art project and started a new one for another contest. and i just came home from running 20 minutes ago.

Now about to eat dinner and watch some shows on crunchyroll!
Played S4 league.... and built some battle scripts... boring day :3