Code Geass
Gundam 00
Gintama
Full metal panic Fummofu
Wolf and Spice (I love the way they negotiate and talk xD)

yamato nadeshiko shichi henge.......................
heroic age
death note
toradora
code geass
zero no tsukaima(all three seasons)
ouran high school host club
school rumble
Utawarerumono
Yamato Nadeshiko Shichi Henge
gundam00

serpentura
wrote:
Umm..
Wad anime is tat???
AmuNanoha
wrote:
serpentura
wrote:
Umm..
Wad anime is tat???
moonlight lady.
anyway your still too young too appreciate those kinds of anime.
google it if you want to know the plot
Detroit Metal City.. all the eps r v funny
lxtsang
Love Hina
The Melancholy of Haruhi Suzumiya
Amaenaideyo
OMG! i just saw the topic of the post and i was like.............such an obvious question!!!!!! Gintama bro Gintama! i've never seen a boring episode of Gintama!!! i've watched all the subbed episodes nearly 5 times!......it's just awesome!!! it just makes u laugh! even if you're in a really bad mood!!! i've never seen (or heard) of an anime funnier than Gintama! it's just....totally not boring! besides that i guess Toradora would do the job...and i know there r a few more but i cant remember the names....I've watched over 283 different animes.....('ve been watching anime since i was like 9..lol....im 16)......and i think every single anime has it's boring part (in other words...that's what you would call the "theory" part of the anime.....every anime has it) but even though Gintama has that "theory" part.....they r not boring at all!!! they just make every single part of it funny! lmao....(quote from gintama: ~Gin was reading a manga called Jumped at the moment he said " ora ora, i wish i had bankai or something like that" lmao that just made me laugh for like an hour or two!!!!....btw it's not funny when someone tells u the quote, it's better if u watch the whole episode!)
Beck
Saiyuki
Major
Whistle
Katekyo Hitman Reborn
Welcome to the NHK!

The Melancholy of Haruhi Suzumyia

Eureka Seven

Fruits Basket

Kare Kano

Death Note

Ouran Highschool Host Club
Both hands up, total agreement XD
OhshC.
ghost hunt.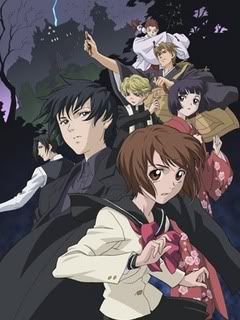 fate stay night.
vampire knight
for me...
full metal panic,
code geass,
kyo no go no ni ova,
ouran,
yamato,

Gurren lagann and kuroshitsuji