Name:
Viral/Wrath
Name before becoming a demon lord
Drake Joseph Shadows,
Before That Unknown.
Age:
Unknown,
Date of Birth:
12/21/2012
Gender:
Male
Grade:
I am an
Cellular Immortal
, and
King
of virus Digimon, i also Was a
"wanderer"
i can pass through
All the digital and real worlds
At Will for some Reason, so i constantly Travel for supplies,food, and other things to keep my virus type buddy's As well as my friends in good shape,i was one of the seven demon Lords(
Wrath & Pride At One Point
) And served 3 Masters,but had a falling out With the First one,
SCAR
.
GranDracmon
,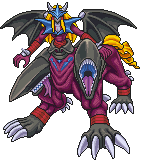 &
Alphamon
Stayed with me though,so be cautious when fighting me one of them might just be around the corner about to ambush you,I Am Also a Member Of
The Royal Knights Legion,
I am It's Head Commander! and known in their Ranks As
THE DESTINY KNIGHT!
.
Old Human Description:
has a long blonde ponytail with a few anime spikes & bangs on the front of his head,
bright blue eyes,a silver Scarf that covers his nose & mouth.
with a dark green military looking vest & a black shirt with a skull and an ace of spades on the front.
he has fingerless gloves on both hands with the symbol of Infinity on the back of each one,some simple black pants and velchroe shoes and a long and eregular sword tied to his waste,
Human:Form
Enraged Form:
height:
5"10
Personality:
can be very quiet, very stubborn, is very fearless & Confident in his own Power as well as his digimon's, he is very kind to virus digimon,and they inturn are nice back for some reason, and he loves to just lie around near the net ocean, but he hates "Virus" type Digimon that would sacrifice other virus types for their own gain.
.
Partner(S):
"Emperor"
,A Daemon & the first digimon that came to Viral in the real world,he is curious And Hot Headed, but takes abuse to virus digimon seriously.
"Megalo"
an orange GuilmonX i met when i came to the digital world a few years back he is also one of the
Thirteen Original Royal Knights
.

"Voltech"
my Machindramon,i found him protecting a bunch of rookie and Ultimate Level virus digimon in a recycling plant.
"Orgmera"
my unfriendly, yet trustworthy Chimeramon, she was the one attacking the recycling plant,(lol) she hates almost everyone except
I,Voltech Megalo & Emperor
.
"Overload"
this is arguably the strongest partner digimon viral has,the only one that rivals him would be megalo, he is a kind yet battle thirsty digimon who will do anything for his tamer Viral, he is a jogress between Orgmera & Voltech making him one of only two known Millenniumon in existence.
"Nolan"
Nolan is a MagnaAngemon,he is the head Docter and Digi-Egg caregiver As well as Viral's personal physician, both viral and Nolan go almost as far back as megalo and viral do, he was on many of virals past journeys across the digital world.
"Ulforce"
Ulforce is an ancient Dragon Digimon that Rivals Megalo & Overload in Strength, he was bound to Viral when he became a Digidestined around the same time megalo was, he was said to be a key part of the answer to the Void in a prophecy About the Digital World, he can take on many Powerful forms, and can adapt to many situation's, he has an Unknown Limit of Potential when teamed up with viral, their Bond is the key to their power! he has also been on the most Adventures With Viral then any of his other digimon, making him an expert on what viral is thinking along with megalo And Like Megalo he was once one of the
Thirteen Original Royal Knights
Before his supposed Deletion.