KidOsiris
I'd have no choice but to kill myself.
omg singing 23 hours a day o_o I would die.
I wouldn't be here to comment because I would've killed myself in that school long ago
id do horrible things to get expelled then commit suicide after being tainted by such a horrific school
i would end up in jail for starting a massacre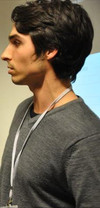 Lol, is High School Musical that bad?
I would be the least motivated person there.
it'll go back to being a normal high school..... when I start singing
i would be worn out everyday but i think it might be fun
Breaking News: Massive High School BloodBath here in California. How a girl became psychopathic and murdered every single person in the school because everyone just sang and danced happily fucked up like the high school musical. Sadly enough we would thank her and give her a medal but since those faggots count as "human beings".....the girl is now in a mental hospital waiting for the eletric chair. So as much we want to thank her...We cant, said the motherfucker of a president we have.

Back to you motherfucker
That would be absolutely wonderful~


I already have my clothes ready for that shit.
I would be like "NOOOOOOOOOOOOOOOOOOO!!!!!!!!!!!!!!!!!!!!!" and then I would get speakers and blast all my asian music so they can shut up, I would also sing along with the music, and smile since they probably wouldn't like it.
lmaoooooo I would start shaking my ass and joyfully throw grenades everywhere MUWHAHAHAHA
crazyfirefly
I would blow up the school only after I had taken Zac Efron to the bathroom for a quicky.