I'd be ecstatic if my girlfriend asked me to watch hentai with her. We could come up with ideas for roleplays and stuff, which would make sex a lot more fun.

~Ember
Axerith
Merkys
wrote
:
Axerith
wrote
:
Merkys
wrote
:
As a dude... No. Probably end the relationship right there. Sex is for marriage and My eyes are for my future wife's body only, and her eyes for mine.
You're 14 aren't you.
I'm 20, and I'm feeling particularly self degrading by dignifying your question, including its myriad implications, with an answer. I as a human, strive to be in control of my urges and impulses. I have a well developed prefrontal cortex, and am thus able to choose how I will act, and to see the consequences of my actions. More and more couples that have brought pornography into their relationships report a lack of intimacy both during sexual activities and daily lives. By its very nature porn, if you will, brings us out of the here and now and into a realm of fantasy. Just like when watching or doing any activity repetitively, the concepts suggested by porn become boring and loose their stimulus, prompting people to either merge the fantasy with reality, delve deeper/else in sexual expression, or both.
Often people pursue the image or idea of something rather than their partner, and report feelings of guilt, inadequacy, and a lack of intimacy. Sex, for humans, is the peak experience for human intimacy, and if it is relegated to a mere physical connection, then it is nothing more than a mutually or self destructive activity. I could continue, but deaf ears, un-examined lives, and all of the same sort. Allow me that I would wish for nothing to come between me and my future wife, and that I desire to be faithful to her in as many ways and to the greatest degree possible. To me, pornography would be contrary to that purpose, and thus my boycott.
Respectfully yours in this and all things,
Merkys.
My apologies. Most ppl quit thinking like that sooner. Good on you.
netdisorder
Why watch a stupid video when you have someone to HAVE SEX WITH
Why do I have to be there?
It might be awkward, but we could try it..still, I'd prefer the real thing : / unless it was a very realistic hentai, and not that repetitive censored bullshit. That stuff is so distracting IMO.
Because fucking yourself isn't necessarily as fun as fucking the other person afterwards.
"Sure thing love, your collection or mine?"

Although Hentai really doesn't do much for me in terms of porn I do enjoy watching it on occasion for the hilarious stupidity and awful dubbing. My dream is to one day find a girl who will watch Bible Black with me MST3K style.
no, using my eyes goes against my beliefs
Yeah right..... Like that will ever happen
Haha why not? lol id tottaly watch it with him:)
Why not, sounds like fun.
crevallejack
WOO HOO! Yeah, baby, YEAH!
Especially if followed by cosplay sex.
Why do that when you could have your own fun?
Hyperion-XIC
If my girlfriend did that I wouldn't be happy. I'm the type a guy that gets ticked off at fan service so hentia is out of the question. If she is horny I'll be happy to assist her. But I'm not gonna watch cartoons fuck each other.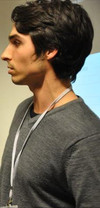 "I'm going to have to check the imdb ratings first."
RobCasillas
Considering I'm A Guy, I Wouldn't Be Upset. A Little Weirded Out That She Knows About Hentai Yes, But Not Mad At All.