What if the hentai the gf wanted to watch with you was a yaoi?
Tim_The_Enchanter
nahh i would rather us just watch a regular anime movie or not even anime
Something very similar like this happened to me once
I was very surprised
I only would if it's a yuri hentai. If its yaoi then hell no, lol.
Des-kun
I would expect my response to be along the lines of "Dafuq did I just hear?" followed by an "Okay, at least let me pick." lol
grunger4life
She's more into reading smut than watching it, but sure. I feel like there is far worse things that she could be asking me to watch with her.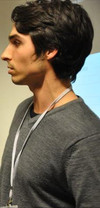 _IceAndCream_
wrote
:
What if the hentai the gf wanted to watch with you was a yaoi?
Reaction:
camontour
I'm always down to watching a little pornography to lighten or even enhance the mood. Done it a time or two. It's never really a first choice persay, but whatever. Now, if my girlfriend was like, "I want to watch some hentai or anime porno", I would slightly question her sanity. Obviously, it's of a pornographic nature, so it's designed to increase arousal.

But unless you get one from an animation studio that isn't horrible (Like the animation studio of BB escapes who my mind right now), it generally will be of poor animation quality and just "ugh". To add to that, alot of the top quaility studios deal in OAV conversions from Visual novels, and alot of those...well, too much rape and tenacles for me. There of course are ones with...somewhat of a better plot then most porn movies...but 1. I'm not wading through all that. and 2. If you are watching it for the plot....something that night went way wrong.
speckledapple
Typically, it can mean many things but sometimes its easier to share in such a thing with your significant other. If not, i'd imagine that wouldn't be a topic that comes up much at all except in an argument.
Hahahahaha! Oh my freaking God. Holy crap, one of the best reactions ever.
If a girl said that to me? She'd probably be the type of girl that likes fucked up shit! So no haha
Meh, why not, I have an imagination, I'll survive
crazyfirefly
Sure if that's what they're into.
^ this, so ya partner has some fetishes, makes it all the more interesting
As long it's not boku then I'm fine with it