OK who's your favourite bleach couple
But i cheer especially for rukia and ichigo..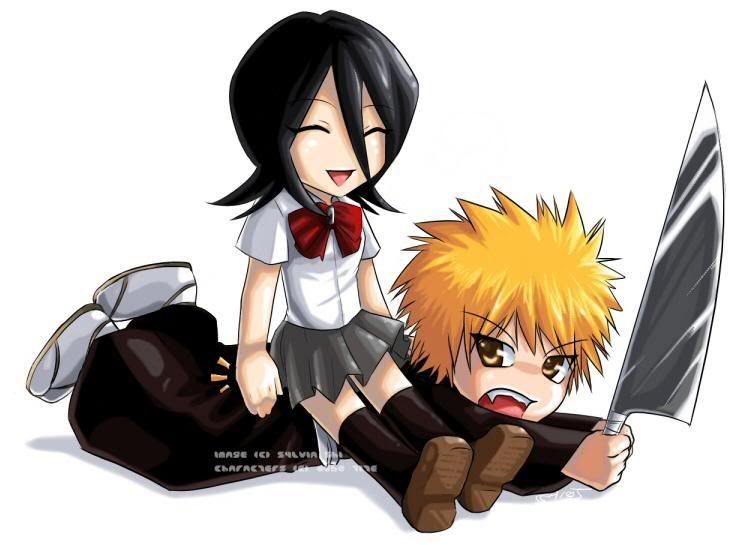 Ichigo and Rukia, wow I totally did not see that coming.
lol whats wrong with ichiruki pair
Rukia is too old for Ichigo...
lol but there is one thing that is weird. byakuya said to rukia 15 years ago your sister told me to find you...so doesn't mean she's around that age or so..?? yeah i dun get that point
i know, and in the flashback, she was a little kid. is rukia just adding on year from previous lives or whatever?
i duno thats why either bleach subs are messed. or the story is screwed
but definately sado-kun and yachiru-chan. the very big/strong and the ver small/fast

i honestly would like to know what would happen
thats kinda gross how can they kiss. lol... (eh hem) and
i mean so does japanese girls like spanish guys ..?
why not? i have a native american friend who' is madly in love with my japanese friend

so why not?
should it be hinamori and hitsugaya?> mroe reasonable.
meh, nah... i never liked hinamori, shes futsukitaichou, but she is a total wuss

yeah, so another bleach couple.....yuzu and hitsuyaga
true she got owned by aizen she got no common sense, it's like aizen died then he appears in front of you.. me = already kneoe that it's a hack!!
yeah, so kenpachi-taicho and unohana-taicho should def hook up